Area Bands are a fantastic opportunity for young people to make music with others! They run at seven different schools (after school hours) around the city at 3:45– 5:00 pm once a week during term-time.
The Area Bands are open to young people in city schools who are running Whole Class Ensemble or In Harmony programmes in collaboration with Nottingham Music Service (NMS), and are ideal for pupils who have completed one year of whole class instrumental teaching. Watch the video below to find out why Area Bands might be perfect for YOU!


Why Join?
Learn to play your instrument better
Perform at exciting concerts throughout the year
Meet new people and make new friends!
Achieve a Music Medal (music accreditation/certification)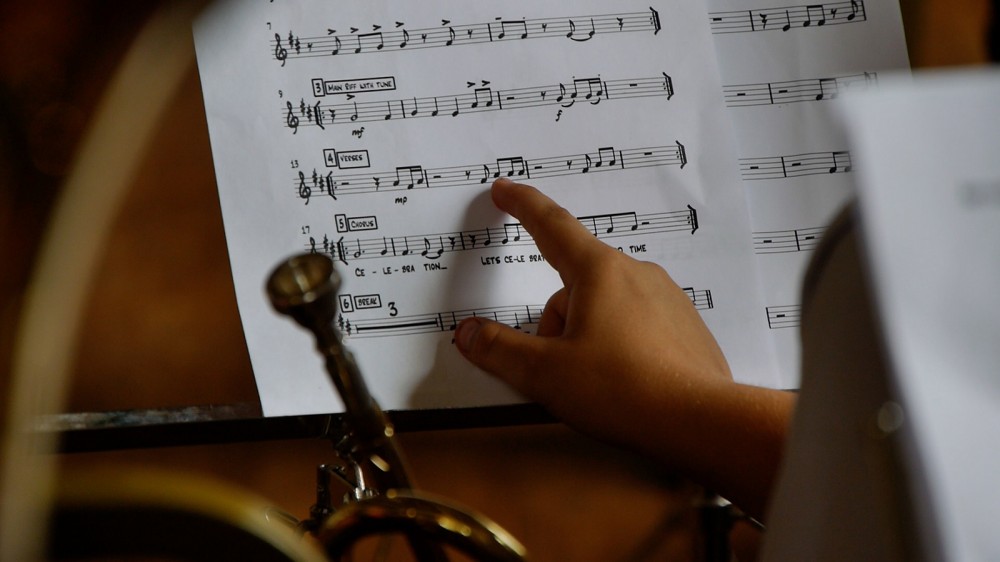 All sessions are led by experienced staff and the music is arranged with the interests of children in mind and in a way that diverse skill levels and needs can be met. Area Band sessions include a combination of full rehearsals, small group activities, performances, singing, movement and improvisation. Instruments include violin, viola, cello, double bass, guitar, flute, clarinet, saxophone, trumpet, trombone and more!
Important Announcements
Every year, our Area Band programme gets bigger and better. While that is great news on one hand, it has also meant that our programme costs have become exorbitant. In order to bring down our costs and maintain our high standards, we will be charging a small yearly fee of £25 /child (£20 concessions) to join an Area Band from this academic year 2018-19.
Please also take a look at our venues as some of the Area Band venues have changed this year!
What's the best time to join?
If you are interested in joining an Area Band, the best time to do so is in September. However, you can join later in the year as well! Please contact info@nottinghammusichub.org.uk for more information. There are 7 area bands, based geographically around the city. Bands will generally start around 3:45 pm and run until 5:00 pm.
Area Band Venues & Times

Monday
Area Band South @ Nottingham Emmanuel, 3:45-5:00 pm
Tuesday
Area Band North @ Robin Hood Primary,
3:45-5:00 pm
Area Band North-West @ Crabtree Farm Primary, 3:45-5:00 pm
Wednesday
Area Band East @ Nottingham Academy Primary,
3:45-5:00 pm
Area Band Sherwood @ Haydn Primary, 3:45-5:00 pm
Thursday
Area Band West @ Brocklewood Primary, 3:45-5:00 pm
Area Band Central @ Mellers Primary, 3:45-5:00 pm
Interested in joining Area Band? Click the link below to access the form and sign up now!
Not sure which Area Band is right for you? Give us a call and we will let you know which one is the closest to you & has more space!
"
For the children who go on to join the Area Band, the experience of playing in and performing with, an orchestra, is incredible. It is almost impossible to exaggerate how enriching and empowering this is
"
City Headteacher
Frequently Asked Questions
This programme could not be run without the city schools' support and we are very grateful to all the schools, teachers and community members who are helping us make music make a difference for hundreds of children around Nottingham City.
1. Why is there a fee for Area Bands?
Our Area Band Network has been growing bigger and better over the last few years, with more children joining each year. However, as we are a charity, this has meant that our costs of running the project have become very high. To maintain the quality of our Area Bands, we have started charging a small annual fee per child.
2. How much is the Area Band fee?
The Area Band fee is £25 per child for the entire year. For children who are eligible for Free School Meals or Pupil Premium, the fee is £20 per year.
3. How do I pay the Area Band fee?
Please speak to your child's school office about making Area Band fee payments. If you are having trouble making the payment in full at the start of the year, please ask your school for options to pay in termly installments.
4. What paperwork do parents need to fill out?
Parents need to fill out the Area Band enrolment form. The form needs to be filled out each year. It can be found online on our website or you can request a paper form from your child's school. Please be aware that for safeguarding, we must have this form on or before the second Area Band rehearsal.
5. When should the form be completed?
Please try to complete the form before the first rehearsal so children/school teachers can bring the forms in on the day of the first session. Please note that you must return the completed form on or before the second rehearsal. Children whose forms we do not have by the second rehearsal will not be able to participate in the rehearsals due to safeguarding reasons.
6. If my child drops out from Area Band, will I get my money back?
We have requested schools to manage the Area Band fee payments. Please check with your school to see if the fee can be refunded.
7. Can pupils join Area Band after September (for e.g. after the Christmas concert) and will there be a reduction in the amount that we pay if our children join part way through the year?
It is still possible for children to join after September (although they will find it much easier to make progress if they join at the start). However, the fee is a flat fee so it does not matter when pupils join in, they all pay £25 (or £20 concessionary rate) for the year.
8. When do the Area Band fees need to be paid?
Please make your payment to the school before October half-term this year.
9. Can children attend Area Band before the fee has been paid?
Yes, children can attend Area Band rehearsals before the fees have been paid to schools.
For further queries, please give us a call or email lucy.north@nottinghammusichub.org.uk