Area Bands are beginner orchestral groups open to young people in city schools that have a Whole Class Ensemble or In Harmony programme in collaboration with Nottingham Music Hub. These bands are ideal for pupils (usually Year 5) who have completed one year of instrumental learning. Watch the video below to find out why Area Bands might be perfect for YOU!

Please note, currently all bands are taking place online.
Why Join?
Learn to play your instrument better
Perform at exciting concerts throughout the year
Meet new people and make new friends!
Achieve a Music Medal (music accreditation/certification)
At present, all Area Band sessions are held online. Rehearsals are led by experienced staff and bands have a ratio of 1 teacher to 10 children at most. This means pupils can get individual attention and extra support when needed.
Area Band sessions include a combination of full rehearsals, small group activities, performances, singing, movement and improvisation. Instruments include violin, viola, cello, double bass, guitar, flute, clarinet, saxophone, trumpet, trombone and more!

This year, online sessions will take place in instrumental groups at the following times:
Tuesdays 4.00 pm - 5.00 pm
Wednesdays 4.00 pm - 5.00 pm
New members can pick which session they would like to attend!
How to join
If you are interested in joining, please complete the enrolment form below. Once we have received your form, we will email you your Login details along with a password for Microsoft Teams. This will let you join our fun online rehearsals every week!
Even during Lockdown, Area Band pupils had the opportunity to participate in online concerts! You can see a video of their performance, collated and edited by the amazing music hub staff. The performance was also featured in our Christmas in the City 2020 concert, viewed by more than 3,000 people!
"
For the children who go on to join the Area Band, the experience of playing in and performing with an orchestra is incredible. It is almost impossible to exaggerate how enriching and empowering this is.
"
City Headteacher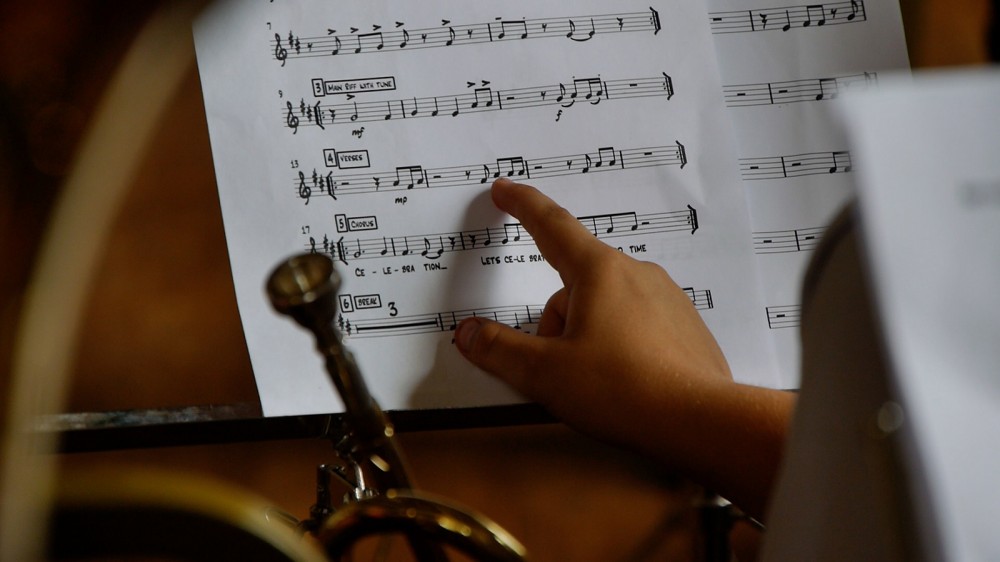 Frequently Asked Questions
This programme could not run without the city schools' support and we are very grateful to all the schools, teachers and community members who are helping us make music make a difference for hundreds of children around Nottingham City.
1. Is there a fee for Area Bands?
There is no fee to join Area Band in 2020-2021.
2. What paperwork do parents need to fill out?
Parents need to fill out the Area Band enrolment form at the start of September. The form needs to be filled out each year - it can be found online on our website. Please be aware that for safeguarding, we must have this form before your child starts attending.
3. Can pupils join Area Band after September (for e.g. after the Christmas concert)?
It is still possible for children to join after September (although they will find it much easier to make progress if they join at the start).
For further queries, please email info@nottinghammusichub.org.uk