Area Bands are a fantastic opportunity for young people to make music with others! They run at seven different schools (after school hours) around the city at 3:45– 5:00 pm once a week during term-time.
The Area Bands are open to young people in city schools who are running Whole Class Ensemble or In Harmony programmes in collaboration with Nottingham Music Service (NMS), and are ideal for pupils who have completed one year of whole class instrumental teaching. Watch the video below to find out why Area Bands might be perfect for YOU!


Why Join?
Learn to play your instrument better
Perform at exciting concerts throughout the year
Meet new people and make new friends!
Achieve a Music Medal (music accreditation/certification)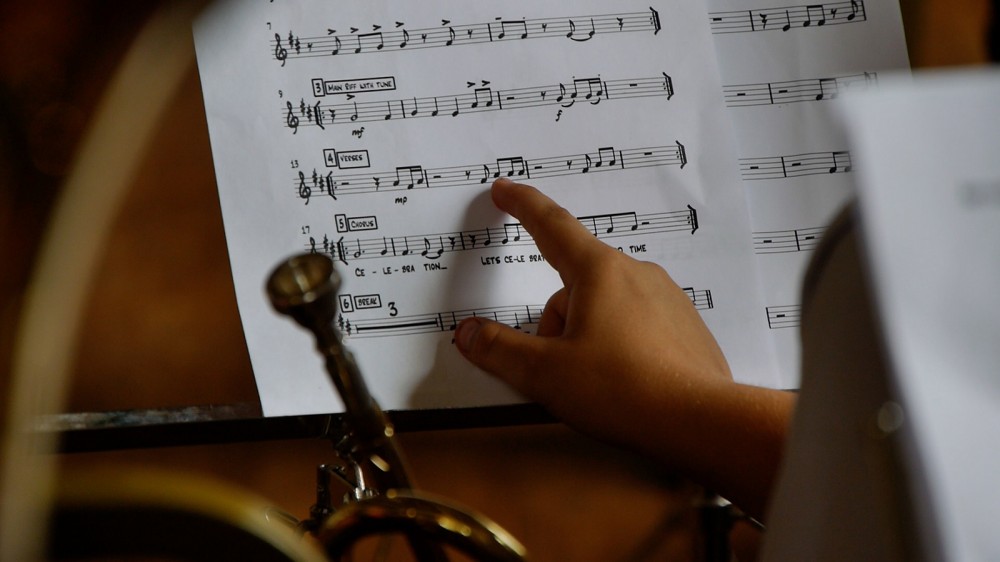 All sessions are led by experienced staff and the music is arranged with the interests of children in mind and in a way that diverse skill levels and needs can be met. Area band sessions include a combination of full rehearsals, small group activities, performances, singing, movement and improvisation. Instruments include violin, viola, cello, double bass, guitar, flute, clarinet, saxophone, trumpet, trombone and more!
What's the best time to join?

If you are interested in joining an Area Band, the best time to do so is in September. However, you can join later in the year as well! Please contact info@nottinghammusichub.org.uk for more information. There are 7 area bands, based geographically around the city. Bands will generally start around 3:45 pm and run until 5:00 pm.
Monday
Area Band South @ Nottingham Emmanuel, 3:45-5:00 pm
Tuesday
Area Band North @ Robin Hood Primary,
3:45-5:00 pm
Area Band North-West @ Crabtree Farm Primary, 3:45-5:00 pm
Wednesday
Area Band East @ Nottingham Academy Primary,
3:45-5:00 pm
Area Band Sherwood @ Haydn Primary, 3:45-5:00 pm
Thursday
Area Band West @ Brocklewood Primary, 3:45-5:00 pm
Area Band Central @ Mellers Primary, 3:45-5:00 pm
Interested in joining Area Band? We will have online forms to fill out soon! For now, you can email info@nottinghammusichub.org.uk for more information. Not sure which Area Band is right for you? Give us a call and we will let you know which one is the closest to you & has more space!
"
For the children who go on to join the Area Band, the experience of playing in and performing with, an orchestra, is incredible. It is almost impossible to exaggerate how enriching and empowering this is
"
City Headteacher