Nottingham Music Service
Making Music Make a Difference
We believe that music makes a difference. As a registered charity and lead partner for the Nottingham Music Education Hub, we are committed to making music more accessible and inclusive. We run or support instrumental tuition in nearly 80% of primary schools in Nottingham City. We also support young people from across the city to develop their musical skills by participating in our diverse ensembles and performances, contributing to the cultural life of our great city.
Partners & Memberships
Nottingham Music Service is proud to be a Music Mark member. Music Mark advocates for a government supported, high quality music education provision for all school aged children and young people. It aligns with our mission of providing a music education that has values of diversity, equity and inclusion at its core.

NMS is also part of the Music Education Hubs East Midlands (MEHEM). MEHEM is a consortium of Music Education Hubs representing the cities and counties of the East Midlands area. It exists as a support mechanism for the lead partners of the Music Education Hubs of the East Midlands in the delivery of the promises of the National Plan for Music Education for the children and young people in the region.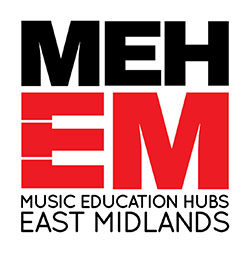 Nottingham Music Service (NMS) started in 2002 as part of the city council and, in 2013 became an independent registered charity.
NMS believes that all young people in Nottingham should have an inspiring and rewarding experience of making music with others. In 2017, our staff was in 77% of the city primaries, teaching children to play an instrument. This is a major achievement, not just when compared to the national average (which is around 58%) but when we look at the situation in Nottingham a little more than a decade ago: in 2002, less than 15% of city schools offered children the chance to learn a musical instrument.
NMS started with a vision to make music more inclusive and accessible. The organisation has designed teaching strategies for children of varying skill levels and interests. By providing high quality, affordable music making, NMS has been able to ensure that the positive impacts of music reach a larger audience.
"
I honestly believe that NMS has shaped me as a person, helping ignite my passion for music. The chance to play such a diverse repertoire in so many great performances with many fantastic musicians who are all up for a good laugh is [something] I shall remember fondly for the rest of my life. Being in NMS has helped unlock my love for music and subsequently more of who I am as a person.
"
Robin Hood Youth Orchestra Participant
Well done Nottingham!
The latest music education data shows that Nottingham City continues to score highly in comparison to national figures in many key areas of music education. This is despite the significant socio-economic challenges of the city. We can accredit the higher than average scores to the dedication of teachers, teaching assistants, senior managers and support staff, working together with the Music Hub across city schools, to provide an inclusive and exciting music education programme.
Download the document below to see more statistics on Nottingham's music making compared to the national averages.
Our Impact
Research indicates that music education can improve language development, fine motor skills, spatial-temporal skills, and reading skills. It also cultivates discipline, and builds confidence and self-esteem in young people. We believe music makes a real difference. Read testimonials below by people we work with and stories of children whose lives we seek to change.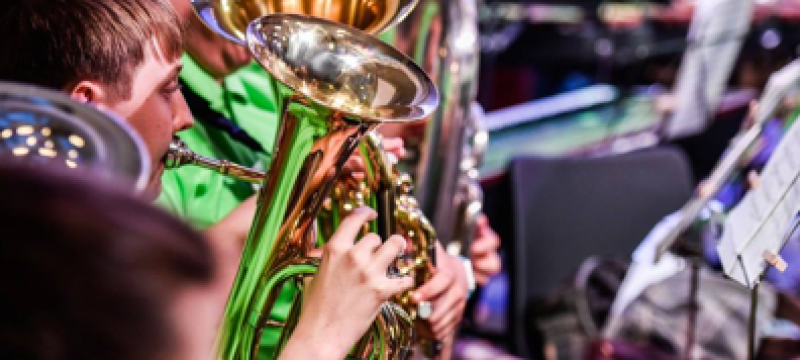 A Dream Come True
Sam* would walk past the older pupils playing their trumpets and trombones in the main hall at his primary school and dream of the day he would be able to play too.
He talked about it all the time and seeing his excitement, his teachers got him an instrument while he was still in Year 2. The 10-year-old is now part of the whole class ensemble programme run by Nottingham Music Service and plays the trombone along with his peers, learning everything from how to hold the instrument properly to different musical notes and harmonies.
Sam has autism, which impacts his progress in all his classes, and he struggles with social skills. He is making progress at school, but is significantly behind other children in his class in all areas. However, during music lessons Sam can play alongside the rest of his class mates. He enjoys music and as a result, his confidence has soared in class.
Trumpet Triumph
11-year-old Alice* was very shy and self-conscious when she first started attending Area Band, around 2 years ago.
She was very critical of herself and if she made a mistake, she would give up at once. Sometimes she would refuse to join in the rehearsals and sit at the back of the hall. Her Area Band teachers soon realised this was not because Alice wanted to be difficult – it was simply a defensive reaction because she did not like making mistakes. To counter this, a member of staff would spend extra time with Alice and talk her through new pieces, after which she started to take a more active part in 
the sessions.
Alice chose to play the trumpet and has improved over the course of her rehearsals, taking her grade 1 last year. Her grandmother has even bought Alice her own trumpet! She is one of the most vibrant players in the ensemble now and never misses an opportunity to play 
in a concert.
*Names have been changed to maintain anonymity
"
[NMS shows] absolute commitment to inclusion of all children (including especially disadvantaged children) in highest quality music education. Very high expectations of itself. Always uncompromising in aiming for excellence. Imaginative, diverse, rich and varied repertoire. Outstanding pedagogy. They have a very cleverly designed, engaging progressive programme which plans in careful detail for children's development and both supports and inspires them to continue and improve as they move through from year group to year group.
"
City school head teacher
77%

of primary schools in Nottingham have a whole class instrumental teaching programme run or supported by Nottingham Music Service against a national average of 58%

Donate

7,800+

Pupils are learning to play an instrument in Nottingham, compared to around 650 in 2002

Donate

29%

of young musicians in the city have progressed to National Qualifications Framework Level 1 compared to a national average of 18%

Donate