Making Music Make a Difference
We believe that music makes a difference. As a registered charity and lead partner for the Nottingham Music Education Hub, we are committed to making music more accessible and inclusive. We support young people from across the city to develop their musical skills, and participate in diverse ensembles and performances, contributing to the life of our great city.
Trumpet for the Win
For many children participating in Nottingham Music Service programmes, there is limited to no prior musical learning and they are often the first in their families to learn how to play an instrument.
Simon* (name changed to maintain anonymity) started and then continued with music making without much encouragement from family – in fact, his mother did not know how well he played till she was invited by the school to a concert. She heard her son play the trumpet for the first time and was absolutely thrilled at how good he was. In fact, she was so impressed that she asked the head teacher where she could purchase a trumpet silencer so that Simon could practise more regularly at home without disturbing the neighbours!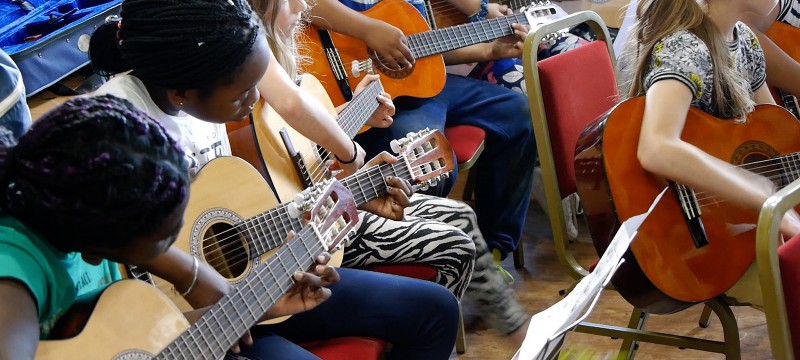 Music Camp for All
​First day of camp, Elena* (name changed to maintain anonymity) stuck like glue to her school teacher. The 10-year-old was nervous as this was the first time she was away from home.
But after a day of sessions in instrument groups, team building activities in the grounds of the beautiful YHA Ilam Hall, a night walk under the bright starry sky and hot chocolate to end the evening, by the time Day 2 rolled along, Elena was chattering happily over breakfast in the dining hall. Her teacher said that the increase in her confidence and resilience was amazing. "She's already so much more confident and she's having a really great time," she added.
Help other children like Elena & donate NOW to fund Music Camp!

Job Opportunities
We are looking to create a pool of reserve instrumental teachers to cover staffing absence and provide extra capacity with the teaching staff. Follow this link to find out more about how you can work with us.
Welcome to the hub!
As the lead organisation for the music hub in Nottingham, we have LOTS of music making - and listening - opportunities. From beginner ensembles to more advanced ones, from rock and pop to world music to youth orchestras: browse our 'Make Music' section to learn more about the ensembles. If you are already playing in one of our ensembles, be sure to visit the notice boards for your group. And if you're looking for some music resources that are not available on this site yet, please visit our old website by clicking here. For any queries, give us a call or write to us at info@nottinghammusichub.org.uk because we would love to hear from you!