Make Music Make a Difference
We believe that every child deserves the opportunity to make music with others. As a registered charity, we rely on your support to continue providing life-changing programmes for young people in the city.
Great news! We've registered with Easyfundraising, a great site where you can help Nottingham Music Hub raise funds simply by doing your everyday online shopping!
Over 3,600 big name retailers are included, such as Amazon, Argos, John Lewis, ASOS, eBay, Boden and M&S.
Every time you shop, we receive a small donation to say 'thank you!' It's completely free and over £20M has been raised for causes just like us so far.
We want to raise as much as possible so please sign up and help us out by clicking here!
What's the need?
Music making is linked to improvement in information processing, language development, writing and reading skills, as well as personal and social development. It can also increase motivation, which in turn leads to success across the board, including a higher self-esteem and better performance in school.
Research also indicates that the benefits of music are even greater for disadvantaged young people. Unfortunately, these are the very groups who don't always get access to quality music making. Did you know that 35% of children in Nottingham live in deprived income households?
Here are some ways you can help make a difference.

Monthly Giving
Join our Monthly Giving programme and become one of our Champions!
Regular giving is one of the most sustainable sources of revenue for charities. For a small sum – equivalent to the price of a CD or an album download – each month, you can help support hundreds of children to learn and play music.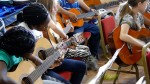 Bronze: £5/month
Will help one child attend a 2-day music camp

Silver: £10/month
Will help provide a musical instrument for one child

Gold: £20/month
Will help staff an Area Band for one week

Perks of Being A Supporter
There is great satisfaction in knowing that you're helping a young person realise their potential. But as an acknowledgement of your support, we also offer:
Emails updating you on how your money is making a difference
A badge and thank you note!

Acknowledgment on our website

For our Gold Champions, we offer discounts at music retailers Normans & Windblowers, and two tickets to our Christmas concert
You can also choose your own amount to donate every month. Click here to visit our donation page. If you have any trouble setting up your monthly donation, please give us a call at 0115 947 6202 and we can help set it up for you.
We also welcome one-off donations! Visit the link above to make safe, secure payments online and help hundreds of children experience the joy of making music with others.
Fundraising Stars
You can help us raise funds through any fun, creative and interesting way you can think of! If you have any ideas, feel free to send an email at Aisha.iqbal@nottinghammusichub.org.uk or pick up the phone and call us at 0115 947 6202. We would love to hear from you! We also have a fundraising toolkit which we can send you on request. Thank you!
Friends of Nottingham Music Service
If family members attend one of our ensembles, why not join 'Friends of NMS'? They're a fantastic group of parents and volunteers who help at events, manage the café on Saturday mornings at Music School and support our work in many other ways.
Want to get involved further? Would you consider joining our committee to help manage volunteers and arrange larger fundraising events? Please contact info@nottinghammusichub.org.uk for more details.
Stay Connected
As a charity, it is very important for us to stay in touch with our supporters. Please subscribe to our mailing list to stay up to date with our events, competitions and achievements! We value your time and promise to only email you 3 to 5 times a year. We would love to share our stories and successes, and let you know how your support is helping us make music make a difference.
"
NMS provides a world-class education in music, giving children opportunities that they wouldn't have otherwise, making it affordable and introducing musical education to families who haven't experienced it before.
"
City school head teacher
76%

of primary schools in Nottingham have a whole class instrumental teaching programme run or supported by Nottingham Music Service against a national average of 62%

Donate

8,317

Pupils are learning to play an instrument in Nottingham in 2018-19

Donate

32%

of young musicians in the city have progressed to National Qualifications Framework Level 1 compared to a national average of 18%

Donate