Music Camp 2022
We are delighted that Music Camp 2022 is back in Peak District again! We are looking forward to our three camps at the beautiful Ilam from 12th - 17th September 2022 and welcome 200+ children over this week with lots of exciting music and games.
Please note that the booking deadline for schools to participate in Music Camp 2022 has now passed. We are currently at full capacity, however if you would like to be placed on the waiting list, get in touch with us on info@nottinghammusichub.org.uk
Music Camp 2021
Thank you Lakeside Arts, University of Nottingham, Nottingham City School teachers and pupils for making this year's adapted Music Camp so much fun! 179 children representing 26 city schools attended the one-day camps from 13 - 17 September 2021, learning to read music, polishing their ensemble skills and getting together at the end as a Monster Band to play the vibrant 'Wallom Green' - they sounded absolutely fantastic!
Also a warm thank you to Jonathan Barker from Nottingham Academy Primary for sharing these lovely images from their experience at Music Camp 2021 - the soundtrack you can hear is 'Wallom Green' as performed by our talented young city pupils after just one day's practice and learning! Absolutely amazing!
Music Camp is a two-day celebration of music and adventure for Nottingham City pupils in the beautiful Peak District. Children learn to read music, play in an orchestra and explore the countryside at YHA Ilam.

Music Camp
Music Camp is a partnership with Nottingham City Schools and is open to all pupils who are currently part of the Nottingham Music Hub First Access programmes, which invole children learning to play an instrument as a whole class.
The purpose of Music Camp is to help pupils carry on to the next stage of their musical learning. It gives children the skills and confidence to continue making music and to take part in our Area Bands, which are beginner orchestral ensembles.
During the camp, pupils have instrumental lessons, explore the countryside of the Peak District, take part in team challenges, learn to read music and perform as part of the 'monster' band. They can even brave the night walk and seek out the phantom trumpeter of Ilam Hall! Watch our video to see how wonderful Music Camp is.
A Massive Thank You to Ronnie Scott's Charitable Foundation!
We are delighted that Music Camp 2019 was supported in part by the amazing Ronnie Scott's Charitable Foundation. We received a £5,000 grant from the foundation which supported our project costs for the camp. The grant was received during our Catalyst period (which ended in July 2019), which means that it was automatically doubled and had twice the impact!
See below some adorable cards sent to us after the camp from pupils who enjoyed their two-day residential tremendously! Support from foundations like RSCF means that we can continue strengthening and expanding our projects, reaching more young people in Nottingham City.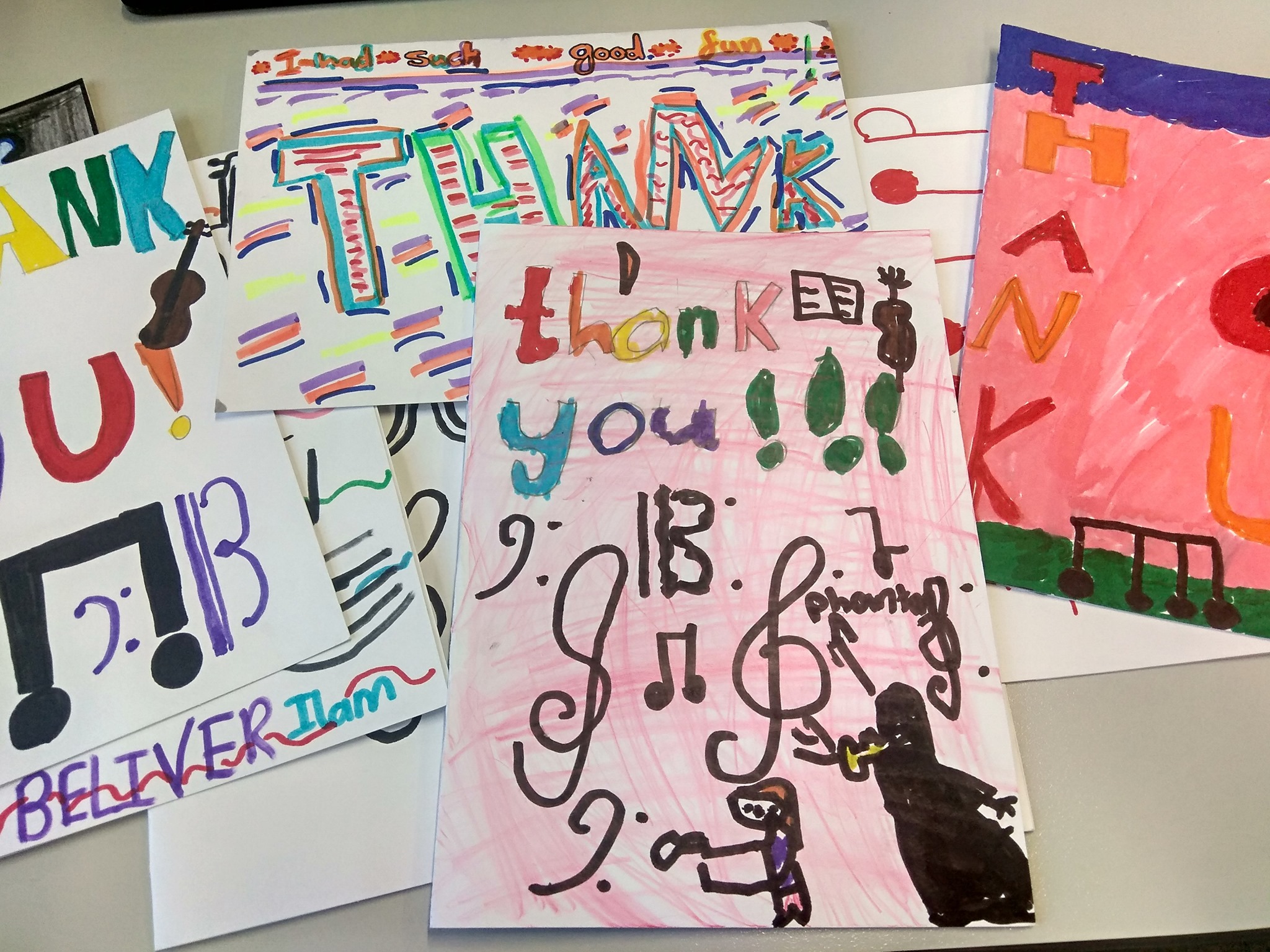 Music Camp 2019
We had a fantastic Music Camp in 2019, with 219 city pupils from 30 Nottingham City primaries attending. Children learnt to play two musical pieces: 'I'm a Believer' and 'Mambo Swing'. Feedback from school staff at the end of camp was overwhelmingly positive with 100% of the respondents saying that the activity schedule for Music Camp is practical and engaging, that the camp improves children's confidence and communication skills and that the music hub staff were friendly and helpful.
Note to Schools

Music Camp generally opens for booking in Spring. Invitations are sent to all partner schools reminding them of the deadline to book. We guarantee a minimum of 5 places per school in an effort to involve as many schools as possible. However, generally we are able to offer additional places to schools that request it. Any additional places can be confirmed after the booking deadline.
Please note that a school staff member is also required to attend with pupils for the duration of the camp.
"Music was second to none. This has been my first year and it has been amazing. The children and myself have learnt loads, it has inspired me to take up the violin!" said a school staff member who attended Music Camp 2019.

We remind schools that pupils who come to Music Camp are also signing up to join Area Band for the following school year.

To ensure Music Camp is accessible, costs are subsidised by the music hub. However, there is a small charge of £25 per pupil which could be paid by parents or your school (perhaps through pupil premium). If you know of families where £25 could be prohibitive, please let us know how we can support them.
For questions about Music Camp, please contact info@nottinghammusichub.org.uk
"
An incredible educational experience for all the children and one they will always remember. You all put in such a huge effort to create a camp that is so effective in both inspiring and supporting the children with their musical learning
"
Primary school staff member