Great Orchestra Experiment
Great Orchestra Experiment 2020 has been postponed to Tuesday 30th June. If your school is interested in signing up to the event, please contact lucy.north@nottinghammusichub.org.uk for more information.
Featuring the Robin Hood Youth Orchestra and friends, city pupils will not only see a great performance - they will take part in it as well!
Each year, schools are invited to sign up for this best-selling event. We will be running 3 sessions, 10.30am-12.00pm, 1.15pm-2.45pm, 4.00pm-5.30pm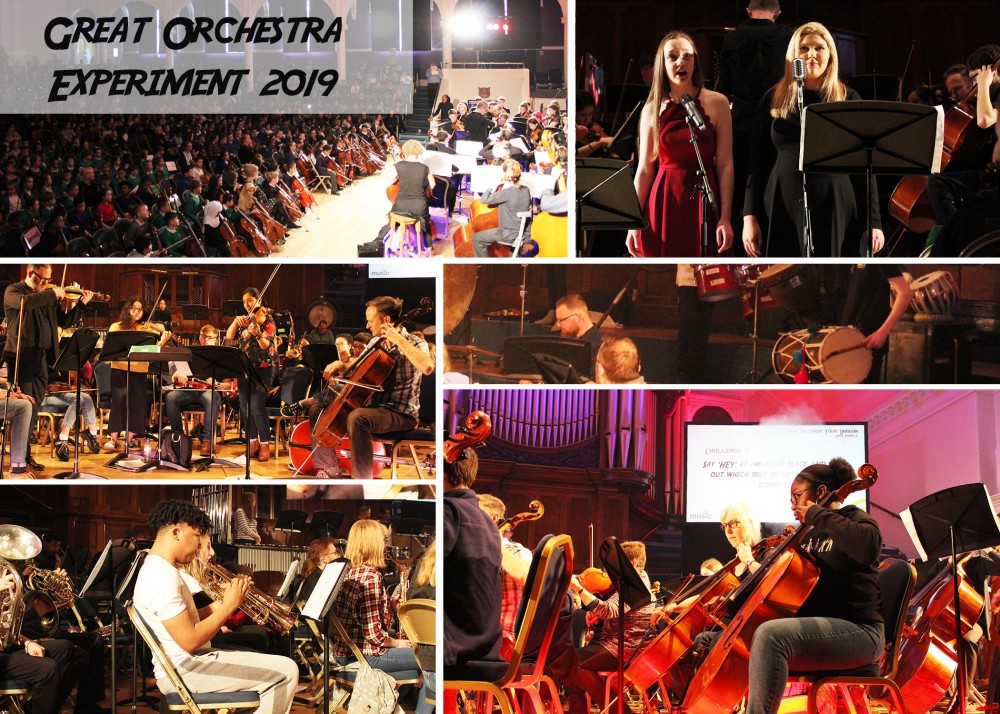 Great Orchestra Experiment 2019
Thank you for making the Great Orchestra Experiment 2019 such a brilliant event. We had 31 schools and around 1400 children attend. This year's Great Orchestra Experiment had us travelling across the globe and in time! The incredible Robin Hood Youth Orchestra accompanied by professional musicians played a range of great music including Berlioz's March to the Scaffold, Feeling Good, the Greatest Showman and more ...
We would also like to thank the Albert Hall team, the College Street technical team and all the schools that brought their children to the Great Orchestra Experiment. We would also like to thank everyone who came to our Open Rehearsal on March 26, 2019 and offered their valuable feedback! We were able to make last minute changes and incorporate a lot of those suggestions.
A heartfelt thank you to our guest musicians including Durgesh Parmar, University of Nottingham's Elizabeth Kelly, the Villier's Quartet, Sing City 2018 winners Kensey Willow from Nottingham College and Lauren Slater from Nottingham Girls' Academy, Mark Roberts and Alex Patterson from Nottingham Cathedral. Your support made the event so much more brilliant and we hope you had a fantastic time supporting us with this inspirational event.
A massive well done to RHYO and to all the Nottingham City pupils who attended this year. See below for list of participating schools.

Bentinck Primary and Nursery
Blue Bell Hill Primary
Brocklewood Primary
Burford Primary
Cantrell Primary
Claremont Primary
Crabtree Farm Primary
Djanogly Northgate Accademy
Dovecote Primary
Dunkirk Primary School (Highfields Campus)
Forest Fields Primary
Glade Hill Primary
Greenfields Community School
Haydn Primary
Heathfield Primary and Nursery
Hempshill Hall Primary
Huntingdon Academy
Mellers Primary
Nottingham Academy Primary
Portland Spencer Academy
Radford Academy
Robin Hood Primary
Rosslyn Park Primary
Saint Teresa's Catholic Primary
Seely Primary
St Mary's Catholic Academy
Welbeck Primary
Westglade Primary
William Booth Primary
"
Wow! What a great event today! Well done and thank you so much for inviting me. I've been to plenty of massed events in my time, but most of them have been singing rather than playing - what a fun logistical challenge you set yourself and how well everyone did!
"
Bridget Whyte, CEO Music Mark
"
That was even better than playing on my X-box! I want to do more music now!
"
Student participant from GOE 2019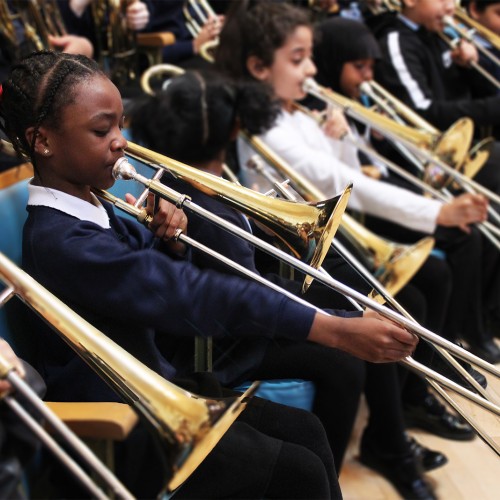 Each year, schools are sent invitations to join GOE. For the last four years, we have had around 30 schools participate in the event. GOE provides an opportunity for children, many of whom have never attended a live performance, to see an orchestra play and to participate with high quality musicians. This means that one of the most positive outcomes of GOE is cultivating a new audience for music and engaging with groups of all backgrounds.
"
Just wanted to say how much I enjoyed this occasion - of course from the orchestral point of view - they were of an amazing standard and there is much talent to nurture - but also because of the skill and dedication of the staff in providing this interactive music event for primary school children. To see all of these young people engaged musically with their instruments and interacting with the orchestra - and thoroughly enjoying themselves - was wonderful.
"
Audience member/parent of participating pupil
Watch our promotional video from GOE 2015 to see how the concert plays out.