Great Orchestra Experiment
Over 1,200 city pupils came together and performed with our 100-strong Robin Hood Youth Orchestra & Friends in a magnificent concert at Albert Hall, Nottingham on March 21, 2018.
Great Orchestra Experiment 2018
This year, our Great Orchestra Experiment had over 1,200 Nottingham city pupils participate in a highly interactive, exciting concert. There were two concerts, one in the morning and the other in the afternoon and we had a total of 28 schools taking part altogether.
Our theme this year revolved around a disgruntled author trying to overcome his writer's block. The show progressed with some spectacular pieces by the orchestra including Born Free, the Imperial March, Der Freischutz and the Typewriter. Each musical piece was connected to a story line that came together for the finale: Beauty and the Beast (definitely one of the favourites for the children!).
Pupils had many opportunities to play their instruments, including performing parts of Savito along with the orchestra and singing Baba Yetu.
Special Thanks
We would like to thank the Foyle Foundation for their generous grant towards our GOE 2018.

Teachers Resource Pack
If you are looking for the teacher's resource pack for GOE 2018, please click here and find the downloadable files under the title 'Great Orchestra Experiment 2018'.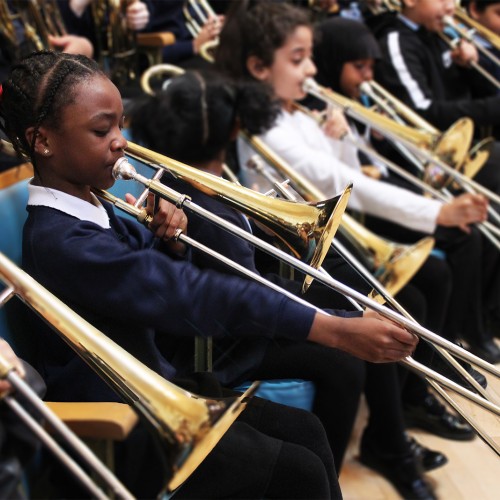 Each year, schools are sent invitations to join GOE. For the last four years, we have had around 30 schools participate in the event. GOE provides an opportunity for children, many of whom have never attended a live performance, to see an orchestra play and to participate with high quality musicians. This means that one of the most positive outcomes of GOE is cultivating a new audience for music and engaging with groups of all backgrounds.
"
Just wanted to say how much I enjoyed this occasion - of course from the orchestral point of view - they were of an amazing standard and there is much talent to nurture - but also because of the skill and dedication of the staff in providing this interactive music event for primary school children. To see all of these young people engaged musically with their instruments and interacting with the orchestra - and thoroughly enjoying themselves - was wonderful.
"
Audience member/parent of participating pupil
Watch our promotional video from GOE 2015 to see how the concert plays out.