Christmas In The City 2021
Christmas in the City 2021
After much deliberation, Nottingham Music Hub has decided to host Christmas in the City 2021 as an online event again this year. The concert will premier on 16th December 2021, 7 PM, on our YouTube Channel so save the date and get your hot chocolate and cosy cardigans ready!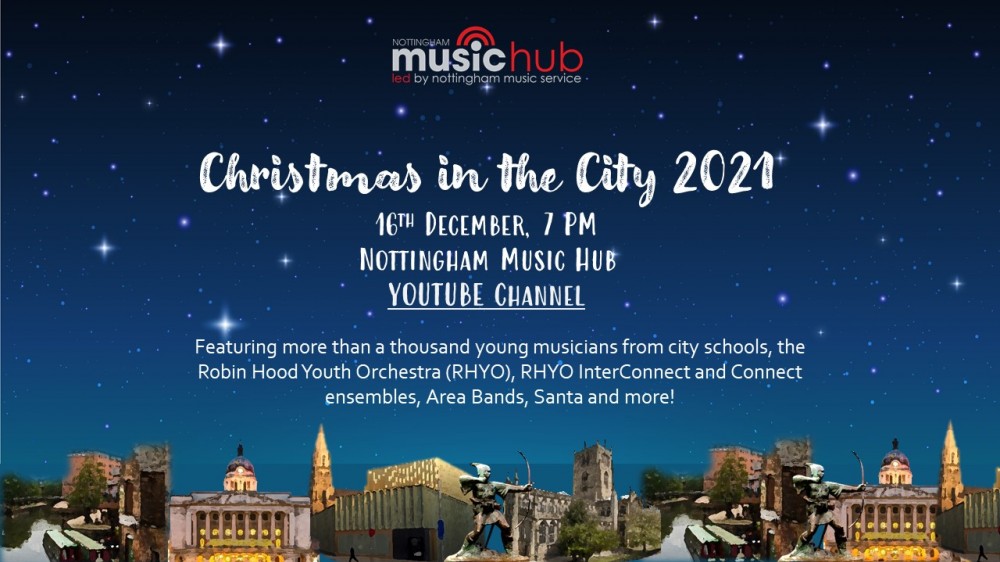 We are already working on the event & are recording performances at iconic locations across Nottingham City. These performances will then be edited together to form our inspirational Christmas in the City concert. We plan to involve as many children and young people as possible. The concert will feature our incredible Robin Hood Youth Orchestra, RHYO InterConnect, Connect Ensembles, primary school choirs, secondary school choirs and more ...
Keep watching this space for more information.
Christmas in the City 2020
CITC concerts are the biggest events of the year for Nottingham Music Hub, showcasing thousands of young people and all hub ensembles. Despite the pandemic, the hub knew that the show must go on - and so, like everything else, CITC 2020 was moved online!
An incredible amount of work went into the event, which was broadcast over YouTube on 17th December 2020 at 7:00 PM. Part of the concert featuring primary school pupils was streamed earlier on the same day so that teachers could show it to pupils during school time.
The event featured over 2,300 young people from 60+ Nottingham City schools and hub ensembles, including Area Bands, the Robin Hood Youth Orchestra and the RHYO InterConnect.
The concert was an incredible feat of musical performances, video editing, coordination and dedication. It had 3,259 live views on the premier date as well as featured previews on Notts TV and the Mayor's Concert. See link below to watch this incredible performance - sure to brighten any gray day during lockdown and after!
CITC 2020 included pupils from the following schools:
Bilborough college
Blue Bell Hill Primary and Nursery School
Bluecoat Academy Aspley
Bluecoat Academy Wollaton
Bluecoat Primary
Bluecoat sixth Form
Brocklewood Primary
Bulwell St Mary's C of E Primary School
Carlton Academy
Carrington Primary School
Chilwell School Sixth Form
Claremont Primary School
Crabtree Farm Primary School
Djanogly Northgate Academy
Djanogly Sherwood Academy
Dovecote Primary School
Edale Rise Primary and Nursery School
Fernwood Primary and Nursery School
Firbeck Academy
Forest Fields Primary
Greenfields Community School
Haydn Primary
Heathfield Primary KD
Heathfield Primary SR
Hempshill Hall Primary School
Highbank Primary and Nursery School
Hogarth L.E.A.D Academy
Huntingdon Academy
Mellers Primary School
Middleton Primary
Nottingham Academy Greenwood Campus
Nottingham Academy Primary
Nottingham Academy Ransom Road Campus
Nottingham College
Nottingham Emmanuel
Nottingham Free School
Nottingham Girls Academy
NUAST Sixth Form
Portland Spencer Academy
Redhill Academy
Robin Hood Primary
Rushcliffe School
Seely Primary
Sneinton St Stephen's C of E Primary School
South Woods Academy
Southwark Primary
St Ann's Well Academy
St Mary's Catholic Primary
Sycamore Academy
The Farnborough Academy
The Fernwood School
The Kimberley School
The Nottingham High School
The Oakwood Academy
The Trinity Catholic School
Walter Halls Primary School
Welbeck Primary School
The Well's Academy Nottingham
William Booth Primary School
Winmill Primary School