Nottingham Music Service
Making Music Make a Difference
Find Out More
21 Years of Making Music Make a Difference
Last year marked 21 years of Nottingham Music Service working in the city, providing exciting music making opportunities for all children and young people. Our amazing staff Belinda and Hannah worked all year to create a moving documentary, sharing the musical journeys of some of our Robin Hood Youth Orchestra members with us. See this beautiful film now!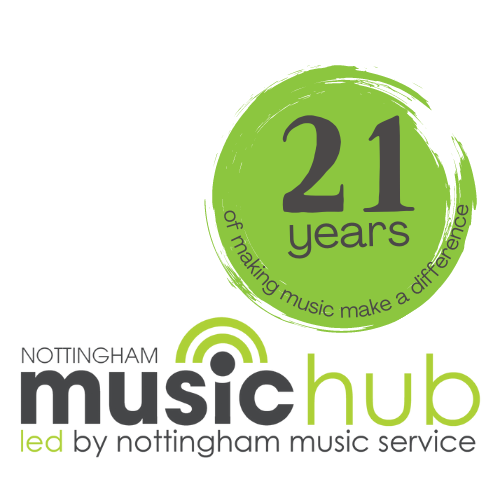 We are looking for a Guitar Teacher to join our team! Find out more about this job opportunity here.
Find out how Nottingham Music Service is part of a great collaborative effort to remove barriers to music education for children with additional needs. Delivered in partnership with the OHMI Trust and Creative United, the programme has successfully engaged children who previously were not included in music education. We are delighted to be taking this project further and continuing making a difference with our fantastic partner organisations.
Featured in the Gulbenkian Foundation's Case Studies Series
To celebrate the 40th anniversary of the Calouste Gulbenkian Foundation (UK Branch)'s report The Arts in Schools (1982) , A New Direction has commissioned a suite of case studies that reflects on arts and education 40 years since this report. Together, these 24 case studies cover a mix of artform specialism, school need, individual focus, community change and inclusive practices. We are delighted that Nottingham Music Hub is part of the series - read the full report here.
The Terrific Trombonist
Mario, 9, started learning to play the trombone in Year 4. This was his first time learning to play an instrument, and he was very nervous because he has a hearing impairment.
When it comes to music, that could have been a barrier however Mario has shown incredible determination.
Tracy, Mario's signer, said, "The first thing Mario said when he saw a trombone was: 'I can't do that!', but he still gave it a go and he has gained so much confidence from it. He enjoys the lessons a lot and it has even allowed him to be a part of the Great Orchestra Experiment."
Tweaking the music lessons and giving Mario the encouragement and support he needed made all the difference. Mario counts among the wonderful young musicians in Nottingham City and has shown that with courage, commitment and a little bit of support, we can unlock incredible talent!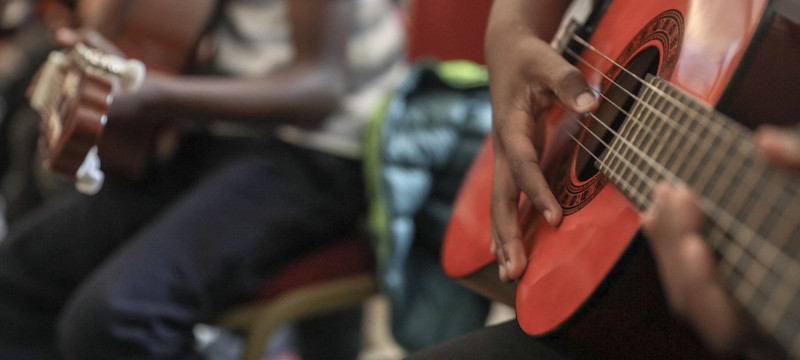 Guitar Hero
After a few interrupted months of learning the guitar as part of the Whole Class Ensemble programme during the pandemic in 2020, Jayden decided this year to join the Year 5 follow-on group in school.
Jayden's progress on the guitar has been amazing! He has his own guitar and plays every day.
Hearing the song 'Beat It' in his school assembly, Jayden loved it so much he actually taught himself to play the song by watching videos on YouTube. He even created a tutorial booklet of how to play the piece, complete with tab notation and supportive practice suggestions. Jayden has leant this book to a few of his friends to help them learn the song too!
This summer Jayden passed his Grade 1 Guitar Exam with a Distinction, and as his teacher says, there is no doubt that this will only be the first step of a lifelong journey in his love of guitar and music.
We believe that music makes a difference. As a registered charity and lead partner for the Nottingham Music Education Hub, we are committed to making music more accessible and inclusive. We support young people from across the city to develop their musical skills, and participate in diverse ensembles and performances, contributing to the cultural life of our great city.
"
Nottingham Music Hub is a great organisation for musical young people to get involved in. Above all, it brings music into all our lives! Our house is always full of music, rushing to gigs, rehearsals, liaising about equipment, playlists, timings, creating a sense of responsibility, reliability, and creativity. I have been to concerts and venues I would never previously imagined, so we mustn't forget or underestimate the impact music has on us parents as well as our children. Life enhancement. Life enrichment!

"
Ensemble Participant's Parent