Nottingham Music Hub works with 80% of primary schools in Nottingham City and if your school would like to join our amazing community, please read on below.
For professional development opportunities with the music hub, please see our CPD Resources page.
Offer to Schools 2023-24
The Nottingham Music Hub programmes available to city schools are slightly different this year onwards. This is due to revised expectations for schools and music hubs in the new DfE National Plan for Music Education and also because the In Harmony funding that had enabled us to heavily subsidise provision (up to 50% of staffing costs) for the last decade is coming to an end.
However, our vision to provide a world-class music education for all children and young people in Nottingham is stronger than ever. Nottingham Music Hub will continue to support city schools and offer guidance to develop and implement school music development and progression plans, as outlined in the National Plan. We will continue to offer discounted rates for provision that aligns with the expectations outlined in the National Plan and will support schools to provide and engage with inspirational music making opportunities throughout the year.

Key Features and Changes
Provision is more flexible to align with the new National Music Plan
Subsidised cost is now only for Whole Class Teaching for First Access programmes (usually in year 4) save for a few exceptional circumstances in Year 5. Other whole-class teaching is curriculum provision, which we are not funded to deliver.
We can no longer run fortnightly programmes (due to the change in focus of the new music plan and funding cuts). We suggest that schools currently running these, contact the music hub to explore alternatives
Schools running First Access programmes with instruments from two different instrumental families should talk with the music hub about the best way forward as we can no longer offer a subsidised second member of staff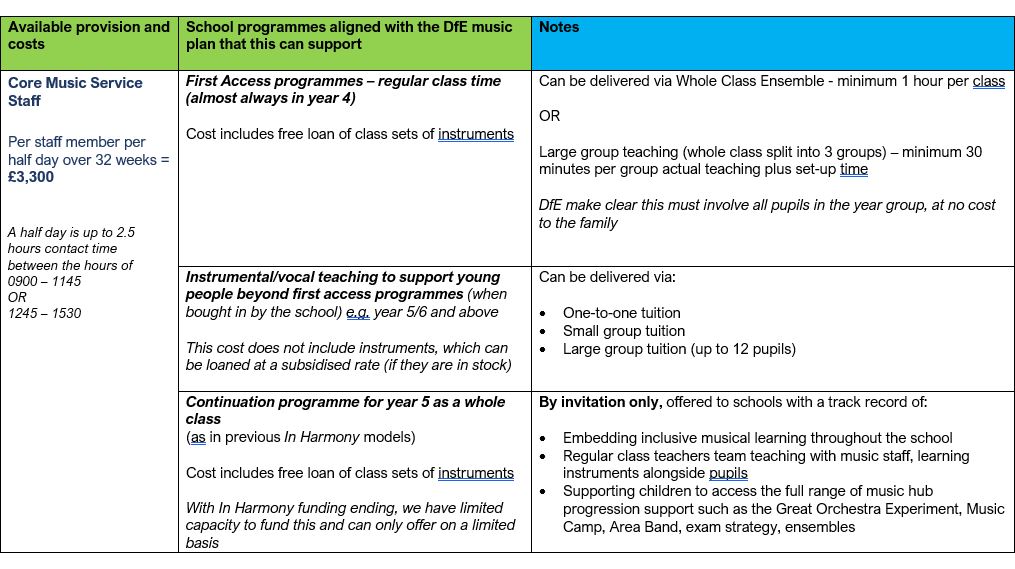 If you have any questions or concerns, please talk to the NMH staff teaching in your schools or just send us an email at info@nottinghammusichub.org.uk. If you want to book provision with us, please email rebecca.hart@nottinghammusichub.org.uk for a booking form.
Frequently Asked Questions (FAQs)
Q: What has happened to In Harmony?
A: In Harmony was a programme originally designed to last for three years but was so successful that it ran for 10 years, especially in Nottingham which has more In Harmony schools than anywhere else in the country: the 2020 Evaluation of the In Harmony Programme | Arts Council England recommended Nottingham as a "very interesting model for other Music Education Hubs".

Sadly the DfE have decided that, although they are keen for the programmes to continue, they can extend the separate In Harmony funding no longer, as it only impacted on 6 areas. We are committed to continuing to build on the success of the programme in Nottingham and are exploring more cost-effective ways of doing this.
Q: Why is it so important for the regular class teacher to be in whole class instrumental lessons?
A: Two key reasons:
In the new music plan, the DfE recommends that the "classroom teacher should participate in the lessons, and support the specialist teacher in enabling pupils to engage fully"
The greatest impact on children succeeding (especially those from less advantaged backgrounds) and still playing years later, is found in schools where there is genuine team teaching between the regular class and instrumental teachers, and where the class learns the instrument alongside the children. There is very strong evidence for this in the city over many years.
Q: Why is curriculum delivery so much more expensive than other programmes?
A: Curriculum delivery is not something music hubs are funded to deliver through the new national music plan – the funding for that is in school budgets.The music hub can only subsidise music programmes that are directly part of their remit in the new plan. We may be able to support curriculum delivery, at full cost, if there is any capacity available.
Q: What counts as curriculum delivery?
A: Anything where a member of music hub staff is regularly teaching the whole or most or a class, except for year 4 WCET and the few exceptional circumstances in year 5 referred to above.
Q: You used to do whole class beyond year 4 - what has changed?
A: There are two reasons for this:
Whole class instrumental lessons beyond year 4 over the last few years have been funded through the In Harmony programme. The funding for this is coming to an end as described above - we can no longer afford it, especially the number of instruments involved.
The new national music plan puts more emphasis on continuation in year five and six in small to large groups or one to one teaching.
Q: Why are you keeping some year 5 whole-class instrumental programmes going – and why only some?

A: The DfE is still very supportive of the In Harmony model, as long as it can work without additional funding! With the limited funds that we have, we are able to support a small number of schools that have built highly effective whole class year 5 continuation programmes by being fully integrated into the structure of the school and music hub progression routes, with:
Class and instrumental staff team teaching, with class teachers learning instruments alongside children
Clear progression and continuation routes beyond the whole class sessions for children to learn in smaller groups and work towards music qualifications
School ensembles that have grown out of these programmes
Children supported to attend music camp, area bands, major music hub events, the music exam strategy and to progress into ensembles outside primary school before going to secondary
Q: Are you able to support and advise schools on developing their curriculum?
A: Yes absolutely. Professional development, advice and support in designing and implementing school music development plans is very much part of the music hub remit. A primary template for school music development plans can be accessed here.
Q: We have had a fortnightly programme – why are you no longer offering this and what are the alternatives?
A: The guidance from the DfE in the new national plan is that music programmes should be at least an hour a week. There are very few schools who still have a fortnightly programme, the in-between week practice sessions run by school staff essential for progression do not always happen, and we can no longer afford to employ staff in a way that sometimes leaves them timetabled only once a fortnight.
Options for moving on:
Switch to a weekly half-day session with core music service staff. This is most likely to meet the DfE expectations in the new national plan.
Split sessions currently run fortnightly across shorter sessions every week, run in small groups. We don't really recommend this, but if chosen, bear in mind:

The DfE requirement for all children in a year group to learn an instrument
Core music service staff are not available to teach this model, but associate hourly-paid staff could, as long as in small groups
You would need to hire instruments separately (from NMS if available), as hourly-paid rates do not include instruments
Q: We have had a model that has two very different instruments (eg flute/guitar OR trumpet/clarinet) needing two members of staff with different instrumental expertise. What are our options?
A: This is the hardest situation to find a solution for given the cut in funding. It's probably best to email us on info@nottinghammusichub.org.uk, but possible solutions could be:
Continue the programme with two members of NMS staff, but the cost will be virtually double, as we no longer have access to the In Harmony funding that was providing around 50% subsidy
Consider if you have an existing member of regular school staff who has experience in one of the instruments and could work alongside a member of NMS staff, perhaps with some instrumental CPD from the music hub– we have seen this work really well in some cases
Make the shift to using just one of the instruments you currently use for the year 4 first access programme
Consider supplementing this with an hourly-paid member of staff to enable a choice of instrument form year 5 onwards, and to enable the current year's cohort to be able to continue learning on instruments they have been learning this year
Q: We want to offer our pupils a choice of instrument, but your models are limited to one family. What can we do?
A: One family of instruments is cost effective in terms of staffing and string and brass offer a choice of instruments within that family. Offering too much choice inevitably fragments learners into smaller groups which raise barriers both for school and learners (cost, timetabling, rooming), and weakens the powerful and valuable 'we are all doing this together' mindset. It is totally clear that the increase in diversity found in ensembles has been driven very largely from schools offering a limited range of instruments and cultivating the 'team' mindset.
What can work really well is for a choice of instrument to be offered at a later stage, either in school or via initiatives such as the music hub 'Instrument Shift' programme.
Ensemble Opportunities
Nottingham Music Hub believes that everyone should have the opportunity to make music. We offer the following ensembles for primary-school aged children:
Area Bands - redefining concepts of who can play in an orchestra! Beginner level groups that make amazing music, perform at exciting concerts and are a great platform for children to improve their musical skills & make friends
Robin Hood Young Voices - an exciting new vocal group for 8 - 14 year olds that will meet once every week and learn to sing a wide and amazing range of genres and styles.
Kit Connect - An exciting new ensemble for young people interested in learning drumming.
Keys Connect - Another new group for young people who would like to learn or develop skills on the piano/keyboard.
String Folk Connect - For 9-14 year old String players who can play around Grade 1 Level.
Guitar Connect - For 9-14 year old aspiring guitarists who have started learning to play the acoustic guitar.
Salsa Jazz & Bloco Notto - For young people who play brass, woodwind and/or percussion and want to improve their skills further.
Band Connect - For young people who want to learn to play band instruments including keys/piano, drums, bass, and guitar.
RHYO InterConnect - our new and improved training orchestra that is the perfect stepping stone to the Robin Hood Youth Orchestra. Ideal for pupils who have given their Grade 1 exam and can play at Grade 1 and above.


Opportunities with Partner Organisations
Nottingham Music Hub's partner organisation BeatFeet offer 'A Party in the Rainforest', a creative music making programme designed for nursery, reception and KS1 children that uses global percussion, play props and life-size animal puppets.
BeatFeet also offers 'Jumping Djembes', which are drumming circles that use music to boost children's social and emotional development. These are themed workshops which offer children the opportunity to play African djembe drums and sing songs in different languages.