Nottingham Music Hub works with secondary schools, colleges and academies across Nottingham City, offering a range of music making opportunities from small group ensembles to music technology, as well as city-wide competitions and events that offer young people a chance to showcase their talent and learn from talented professionals.
Music making has far-reaching benefits for young people, improving their confidence, social skills, motivation to learn, engagement with school and more. These benefits are more pronounced the longer young people continue with their music making.
The transition from primary to secondary school is crucial to young people's development and ability to succeed in and out of school. Many pupils tend to give up music at this juncture, which can be avoided with the help of music hubs working with secondary schools and providing inspirational opportunities for pupils to continue their musical progression.
Find out below how the music hub can help you offer exciting music making opportunities for your pupils so that they can achieve their full potential and continue to thrive.

Instrumental Tuition
Offering instrumental tuition is a great way of encouraging pupils to continue learning the instruments they learnt to play in primary school, helping them become more skilled and confident.
Secondary schools can choose either a half day or hourly paid model of instrumental tuition. Current instruments include brass, woodwind, strings, guitar, keys, drums and/or vocals but if you are looking for something else, get in touch and we will do our best to provide what you need!
Half Day Tuition
Cost: £2,745 per year

Hourly Paid Tuition
Cost: £35 per hour

Ensemble Opportunities with Us
Making music together with your friends and peers is one of the most rewarding experiences, as expressed by our youth orchestra participants. The social element of making music together plays as important a role as the musical progression and is vital in improving young people's confidence and motivation to succeed.
Nottingham Music Hub offers the following ensemble opportunities for secondary school aged pupils. Please check out our Ensembles page for more information.
We've introduced three small group ensembles for Strings players, Woodwind & Brass players, and Guitarists respectively. These are designed for young people who have some experience of playing their instruments and are interested in continuing to play along with their friends.
An exciting new vocal group for young people that will meet once every week and learn to sing a wide and amazing range of genres and styles.
Bloco Notto resumes this year and we're also starting a new rhythm group which will be perfect for creative and enthusiastic young musicians!
An exciting new training orchestra that bridges the gap between beginner level ensembles and our amazing Robin Hood Youth Orchestra. RHYO InterConnect is perfect for young people (9-14 years) who want to continue learning their instruments after Whole Class Ensemble tuition and can play around Grade 1 - 4 Level.
Nottingham City's very own youth orchestra, RHYO is an exciting ensemble that plays a diverse range of styles from Classical to Jazz to Popular and performs at iconic city venues and festivals. Ideal for pupils who can play at Grade 4 and above.
Events, Competitions & More
Working with Nottingham Music Hub leads to a fantastic range of festivals, competitions and events throughout the year. We have great opportunities for secondary school aged pupils, including a singing competition, a careers fair and a band competition.


Visit our Events page for a full listing of our music making opportunities.


Music Technology
Nottingham Music Hub offers pupils the opportunity to learn Music Technology skills. Surveys have found that young people these days are interested in learning the various skills associated with technology and music production.
Pupils are taught the freely available Digital Audio Workstation (DAW) software to create music, record performances, apply effects, program virtual instruments and much more! The skills pupils will gain through these Music Tech sessions will be directly transferable to both video and visual editing software, and could lead to further study and careers in Music Technology and Music Production.

Half Day Music Technology sessions
Total Cost: £2,745 per year

Hourly Paid Music Technology Sessions
Total Cost: £35 per hour

Opportunities with Partner Organisations
DJ Skills
Another area of interest for young people as specified by them is DJ Skills. Nottingham Music Hub has partnered with Noise Academy to offer a new, exciting aspect to music lessons through DJ skills and Music Production while teaching the underpinning concepts of musical elements, context and language.
By participating in the weekly sessions, students will learn how to DJ, produce their own music, play in front of their peers and showcase their music online whilst gaining accreditations.
Please note that the costs below include equipment. Each teaching session is 30 minutes and limited to four pupils.
1 hour (2 sessions) £75
2 hours (4 sessions) £120
3 hours (6 sessions) £150
Full day (10 sessions) £250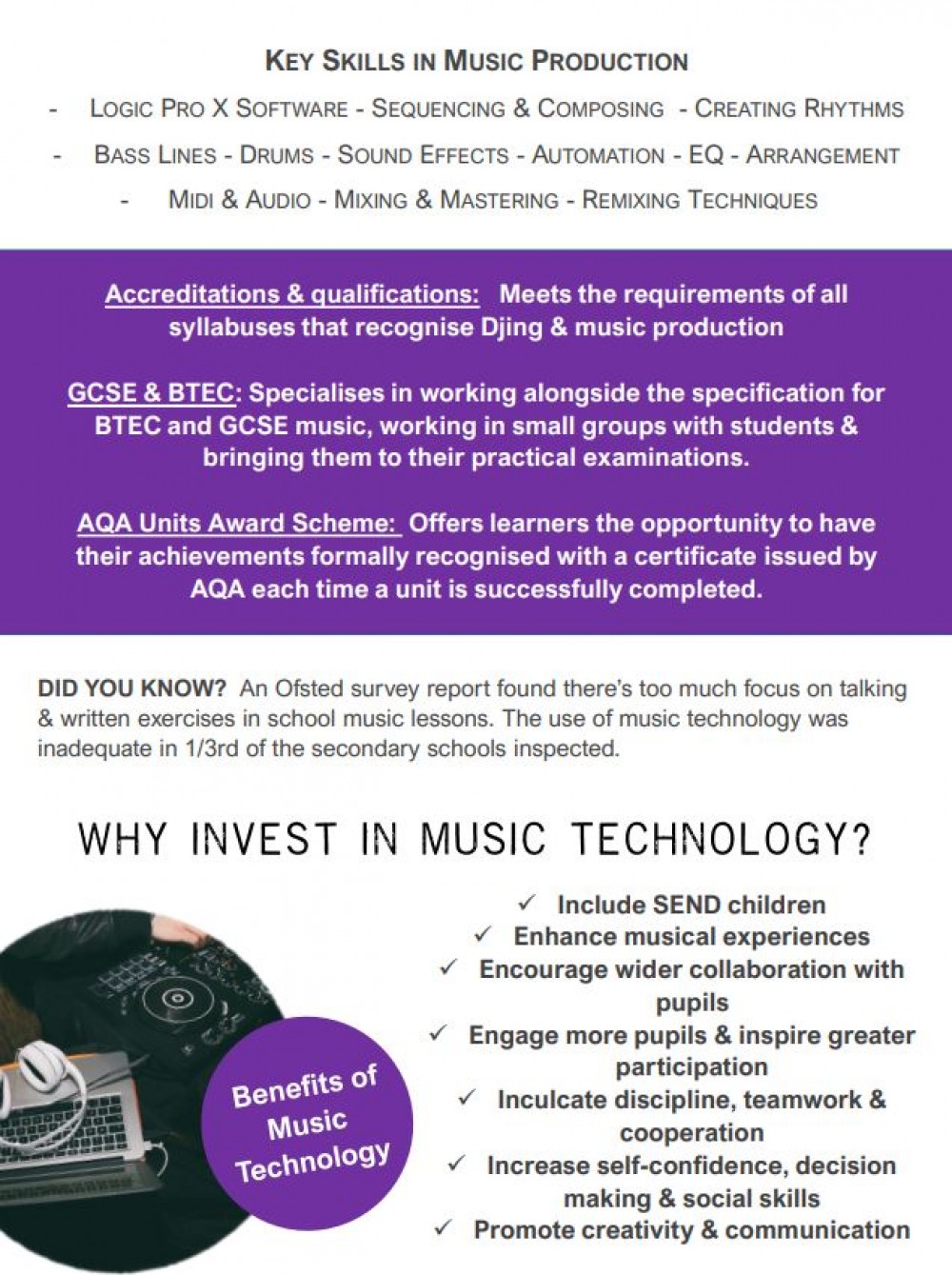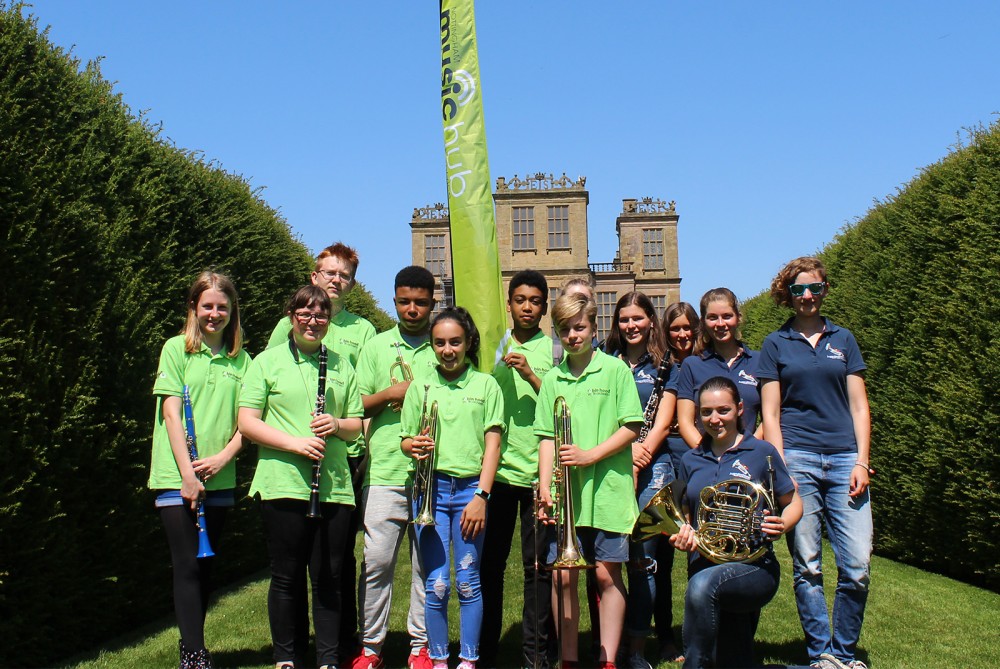 We understand that every school's circumstances are unique and we would be happy to discuss a bespoke package for your school that allows pupils and the wider school community to achieve their musical potential. Call our fantastic Programme & Partnerships Coordinator Hannah Barrs on 07564 834944 to discuss what is right for you!