Nottingham Music Hub offers CPD opportunities for its own staff as well as teachers in city schools, including workshops, sessions and curriculum support packs linked with our events. The music hub runs a Certificate for Music Educators (CME) course in collaboration with MEHEM, to equip teachers with the skills and confidence they need to deliver music education in schools.
We have also started termly Music Network Meetings, which provide school staff an opportunity to network, raise issues and concerns and share resources and CPD materials.
Music Network Meetings
The Music Network sessions are held once a term in collaboration with the Nottingham Schools Trust. Meetings focus on a range of topics and the agenda is shared with participants beforehand.
The first meeting was held in June 2019 and attended by 23 schools while the second meeting was held in November and attended by 31 schools. These sessions are a great opportunity for teachers to stay up-to-date with the latest trends and topics in music education in the country.
"
We came away so excited with all the ideas that we have learned and want to share them with the staff. For us, the whole meeting was presented at a level for everyone to take away something.
"
Nottingham City primary school teacher
Inviting applications to become delivery partners for our Certificate for Music Educators course
Over the last five years, the Music Education Hubs of the East Midlands (MEHEM) consortium has been running a successful Certificate for Music Educators (CME) course.
The course has been very successful and due to an increasing number of requests from potential learners outside the East Midlands, we are now inviting other music hubs to become associate delivery partners with the MEHEM CME.
Why become an associate delivery partner?
MEHEM is an established centre offering expert leadership and support – hubs have found CME transformational in its impact on music hub staff and partners
It's a cost-effective way to offer an established and high-quality nationally accredited in-service programme to music hub staff and partners
It provides access to the MEHEM face-to-face courses and extensive supporting materials, handbooks, online resources, forms and module workbooks, quality assurance and internal verification procedures, plus support from a highly experienced team
What's the commitment?
Associate delivery partners would need to provide:

a suitably experienced lead assessor to carry out the initial assessment of learner work, and attend:

a one-off half-day induction prior to the start of the course
three half-day meetings of the programme leadership/internal verification board each year
one full-day final verification/award meeting (in June)

a mentor to support each learner in their region
Learners will need to:
attend four face-to-face training sessions over the two years of the course

These are in the East Midlands, and currently alternate between full day and afternoon/twilight courses
These four days can be split across the two years of the course, but it is better to attend them all in the first year

meet all deadlines to successfully gain the CME qualification
Associate delivery partners would choose candidates that they wish to support to do the course, ensuring that they meet guidelines laid out in the CME MEHEM staff and learner handbooks.
What are the costs?
£1,150 per learner, due in two instalments: the first half by the 15th September in the year the learner starts the course; the second half by the 30th April in the year of completion of the course
Costs of half-a-day training in the East Midlands for new assessors/mentors on administration of the course and consistency of approach
Travel costs for a moderator from MEHEM for up to three moderation visits per year, as necessary
Have any questions? We'd love to hear from you. Contact Ian Burton (ian.burton@nottinghammusichub.org.uk) or Vicki Brown (Vicki.Brown@derbyshire.gov.uk)
Certificate for Music Educators
The Certificate for Music Educators (CME) is an accredited qualification, validated by Trinity College London, and run by the combined Music Education Hubs for the East Midlands (MEHEM)
"
This is an excellent centre and a model for what the CME can achieve and how learners can be supported in their professional development. Assessment systems are rigorous but supportive, and the professional development materials and sessions are of a very high quality
"
Trinity College, London
The MEHEM CME programme was started in 2013 as an in-service route for music educators without prior teacher training to help them gain the required skills to ensure that children in schools have high quality learning experiences.
Nottingham Music Hub, as part of MEHEM, has gone one step further and used the CME qualification as the foundation for a one-year full time trainee programme. This programme is especially helpful for people just starting their careers. The trainees work in schools alongside experienced staff and complete their certification while gaining teaching experience. The CME has brought the music hubs in the East Midlands together and created a platform for great partnerships and exciting music making opportunities.
MEHEM has been running the CME course since 2013. It is the largest Trinity CME centre, with the highest number of successful candidate certifications in the country
*(as of April 2019)
Reading Resources for CME Learners
Please find below reading material for CME. You can click to download files as you need!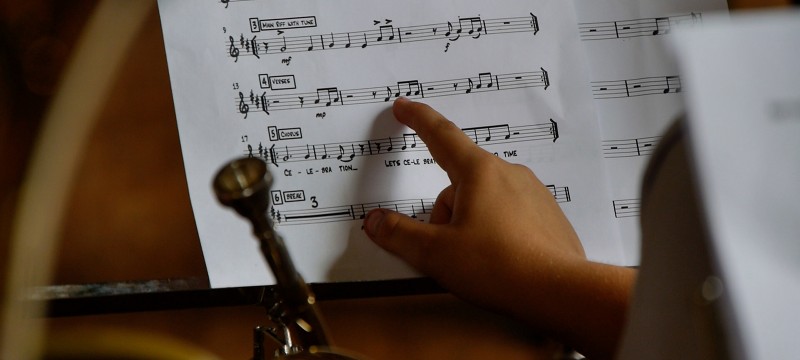 Introducing the Certificate for Music Educators
The first to play an instrument in her family, Sophie* decided to pursue a Bachelor's degree in Music. One module in particular – Music & Education –struck a chord with her.
Following university, Sophie started a job as a trainee helping teach pupils to play an instrument, but she was disappointed by the lack of progression routes available at that organisation. Which is why when Sophie found out about the CME trainee programme offered by Nottingham Music Service, she decided to pursue it. It gave her the chance to do just what she wanted: teach others and learn to be a better teacher at the same time. She could get her Certificate for Music Educators (CME) while working with qualified, skilled staff and gaining valuable experience on the ground in schools.
After successfully completing the programme, Sophie accepted a role as an instrumental teacher with Nottingham Music Service in 2016. "I don't think I would feel confident leading lessons this year if I hadn't done the CME," said Sophie.
To find out more about our CME programme, email info@nottinghammusichub.org.uk
* Name has been changed to maintain anonymity
PGCE Primary Music Resources (March 2018)
Please enter the password to access material and resources from PGCE Primary Music session
View