Band Factory is a great opportunity to get together with other young people and play the kind of music you love. Nottingham Music Service not only provides you with the space to practice, it helps you find the right instrumentalists to make your very own band!
We provide rehearsal space and guidance on performance, composition and playing skills from specialist musicians. Rehearsals are peer-led but we help you improve your skills and become better musicians. Solo artists and bands are both welcome!
Band Factory members also get a chance to take part in music competitions such as Noise from the Next Generation and the Young Creative Awards. They also get performance opportunities at concerts and festivals.
Did you know our Band Factory artists and bands have won awards and accolades including Nusic recording sessions, Young Creative Awards and Confetti artist management?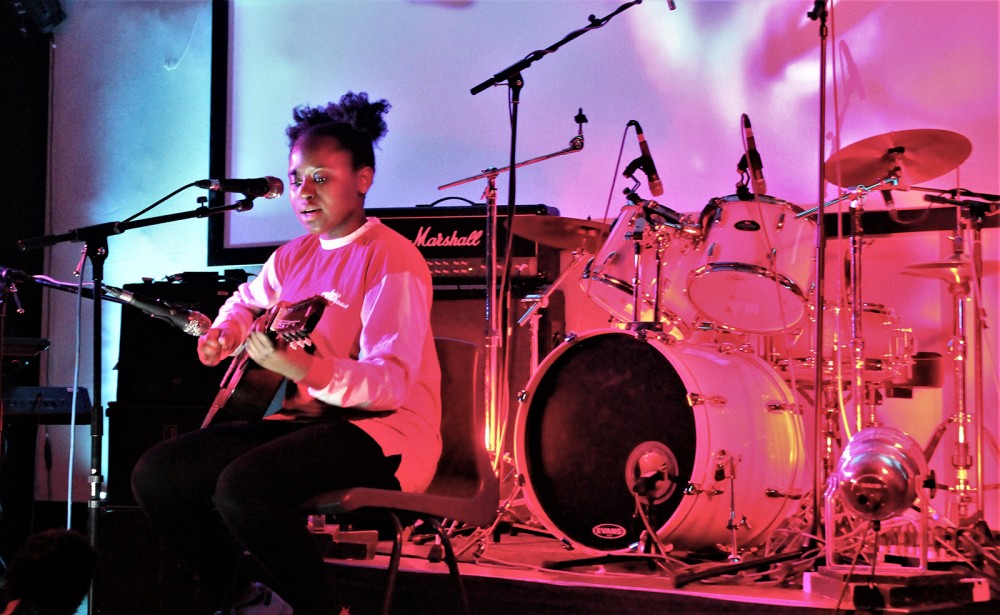 Who It's For:
11 – 19 year olds. You can play any instrument but the most common ones are guitar, bass guitar, drums, keyboard and vocals. You need to bring your own instruments but we have some drum kits available!
Where & When:
Saturday mornings at Nottingham College (Clarendon) from 9 am to 1 pm

How to Get Here:
Nottingham College, Clarendon Campus
Pelham Avenue, NG5 1AL
Car: Nottingham College, Clarendon can be accessed directly from the A60, Mansfield Road
Tram: The college is a 10 minute walk from the Forest tram stop
Bus: From Nottingham City Centre take Nottingham City Transport's Brown, Lime or Purple line
Cost:
For young people living or studying in the city, the annual cost is £48 (£11 concessions). For young people living AND studying in the county, the annual cost is £90.
You can sign up for Band Factory online by CLICKING HERE. If you have any questions, email us at info@nottinghammusichub.org.uk.
All Band Factory members need to understand and sign a contract detailing rules of conduct. Download and read file below.