The Great Big Orchestra Project
The Great Big Orchestra Project:
Be part of our Nottingham-Karlsruhe twin city orchestra!
We are so thrilled to be hosting the Jugendorchester Stadt Karlsruhe (JOK), a youth orchestra from Nottingham's twin city Karlsruhe, Germany this July 2022. Join us for a truly spectacular, multi-national orchestral performance at the Albert Hall, Nottingham on 22nd July, 2022.
This summer, JOK are coming to Nottingham to perform with our very own Robin Hood Youth Orchestra! The two youth orchestras have performed together in England and Germany many times over the last decade, but this is the first time they will get together post-pandemic, so it is going to be extra special.
The concert on 22nd July will be open to the public and we will be posting information on where and how to get your tickets very soon. For now, make sure to save the date!
We are also inviting secondary school pupils from across Nottingham City, to join the two orchestras for workshops, sessions and more! Please read below for more information on the secondary school workshops with the combined orchestras.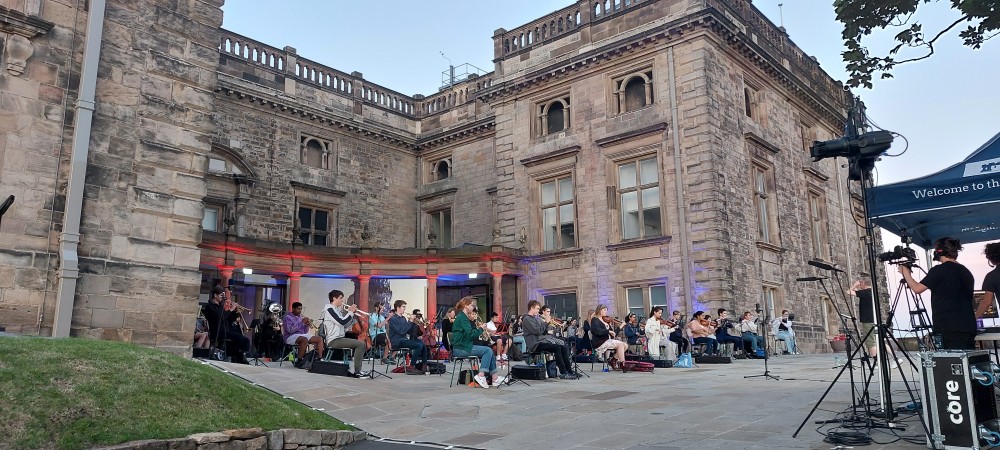 Friday July 22nd, at the Albert Hall, Nottingham

09:30 – 12:30:
Workshop rehearsal; meet German and English players from youth orchestras
18:00 – 22:00:
Soundcheck and festival concert with combined orchestras
Most of the pieces are suitable for secondary school students at Grade 3+. Students at and above this level should be able to find a part for at least one piece that is suitably challenging. NMS staff will be happy to support!
Eligibility Criteria:
Please note that this project is for secondary school pupils and primarily for young people living or studying within the Nottingham City boundary. Anyone living AND studying in Nottinghamshire County will only be able to participate if we still have spaces available closer to the day.
Register your interest with Nottingham Music Hub using our booking form latest by 27th May 2022.
Please send in your form as soon as possible so that we can send you a link to the orchestral parts and backing tracks for the above pieces. You can download the invitation letter for secondary schools below.