Thank you to all the schools, teachers, pupils and family members who attended Summer Sing 2019! And a massive thank you to Apollo5 for leading such a wonderful workshop and performance.
Summer Sing 2019
This year Summer Sing took place on June 13, 2019 at the beautiful Albert Hall. We had two sessions: Morning (9:30 am - 11:30 am) and Afternoon (1:00 pm - 3:00 pm) with 586 pupils representing 21 primary city schools across Nottingham City.
The event was led by the critically acclaimed professional voice artists, Apollo5.
We had over 200 people attend the performances (the last half-hour of each session was open to friends and family) and it was a wonderfully generous audience that helped raise £191! The money will be matched under our Catalyst grant and help us continue with life-changing music programmes and events for young people in Nottingham City.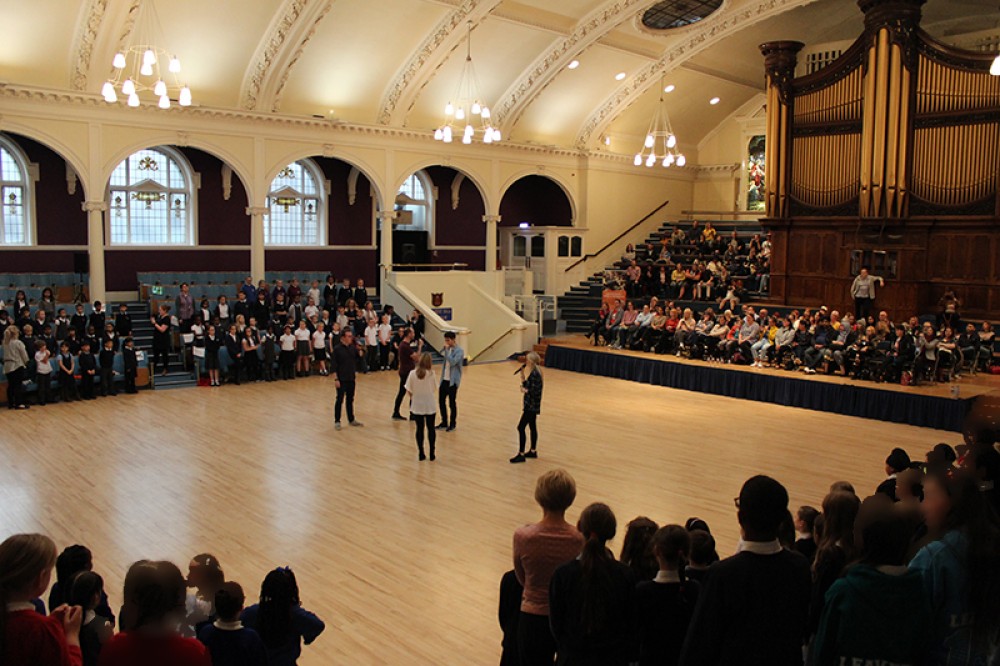 Participating Schools
Blue Bell Hill Primary
Brocklewood Primary
Burford Primary
Carrington Primary
Claremont Primary
Crabtree Farm Primary
Djanogly Sherwood Primary
Edale Rise Primary
Haydn Primary
Henry Whipple Primary
Melbury Primary
Middleton Primary
Nottingham Academy Primary
Radford Academy
Robin Hood Primary
Rosslyn Park Primary
Snape Wood Primary
Southwark Primary
Walter Halls Primary
Whitegate Primary
Windmill L.E.A.D. Academy
Summer Sing Concert 2018

Summer Sing 2018 was fantastic! Workshops by the lovely Nottingham Cathedral youth choir director Ellie Martin and music director Alex Patterson were followed by a brilliant combined performance by Nottingham city pupils and the fabulous Apollo5 on June 20. Nearly 500 Nottingham City pupils from 20 primary schools in Nottingham attended Summer Sing 2018. Children were absolutely thrilled to be in Albert Hall, and for many of them it was their first time at such a wonderful concert venue. The interactive concert featured not just a performance by the internationally acclaimed Apollo5 but a workshop as well, and opportunities for the children to sing together with the vocal quintet.
Apollo5 were full of energy and the children left humming songs from the day!
"
Wow what a treat! We had an amazing time at the Summer Sing. The professional singers, Apollo5 were amazing. The children left buzzing!
"
Rosslyn Primary School (via Twitter)
Summer Sing
Summer Sing is an annual event, including workshops and a main concert, organised by Nottingham Music Service to celebrate and encourage singing in the city. The programme is spread over several weeks and schools can sign up for support workshops. We also share resources with schools to help them carry on practicing in their own time! All the efforts come together at the final concert, generally held at the beautiful Albert Hall, Nottingham.