Nottingham's Largest vocal competition!
Sing City is our annual competition for singers and this year we are moving it online! It's an exciting opportunity for young people to show off their talents and shine. Rather than performing on stage, entrants will be asked to film themselves singing two songs – they could be covers or original songs or a mixture of both. Not only will we be moving our competition online this year, we will also be holding a series of workshops across the year to support young people with their vocal delivery, performance skills, recording techniques, careers advice, and giving out song and lyric writing tips and tricks thanks to a number of local industry experts. Fill out the enrollment form below to take part!
Entries in by Wednesday 4th November - complete the enrollment form below to sign up.
Join us for a vocal workshop with ROB GREEN on the 5th November (also open to those who are not taking part in the Sing City competition).
Submit your vocal recordings to us by the 20th November.
Winners to be announced on the 27th.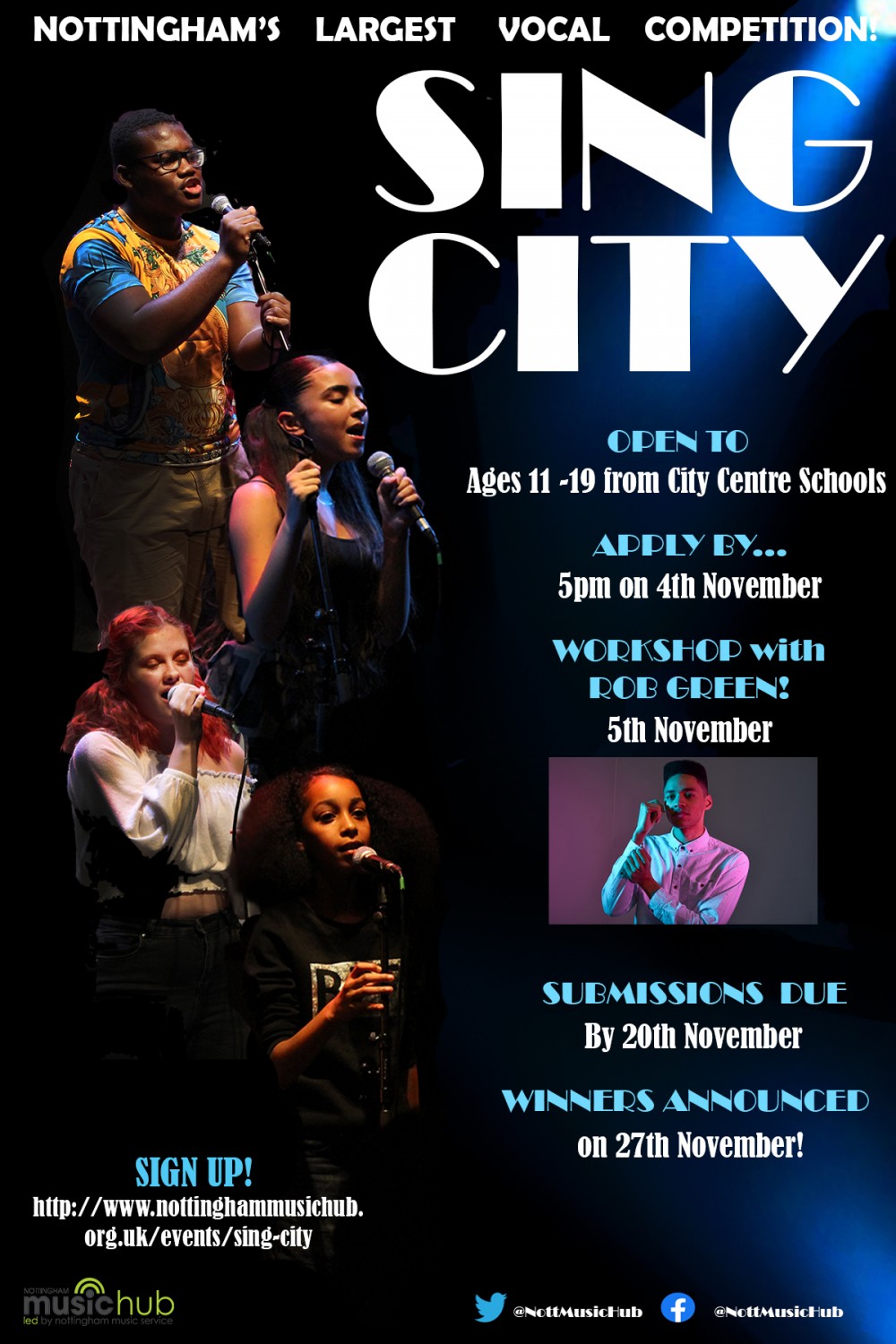 5th November - Vocal Workshop with Rob Green!
Perfect your performance with a vocal workshop and discussion with Rob Green
Singer songwriter and long-time friend of Nottingham Music Hub ROB.GREEN will lead the first of our workshops looking at lyrics and how to effectively communicate and deliver their meanings and emotions. He'll consider vocal range and how best to support the outer reaches of your range. Rob has performed at countless online festivals and events since lockdown and he will pass on his knowledge as to how best to perform and record a live performance at home.

The workshop is suitable for any singer aged 11-19 who attends a Nottingham city secondary, academy or college and is essential for anyone wishing to take part in the Sing City competition. The workshop will take place online via Microsoft Teams and an invitation link will be sent to you once you have signed up to the event. To take part please complete the workshop form below by Wednesday 4 th November to reserve a place.