RHYO at Nottingham Castle
The Robin Hood Youth Orchestra (RHYO) performed live for the first time in more than a year at the newly renovated Nottingham Castle on 14th July 2021 and it was incredible! Thank you to everyone who helped make the event so memorable.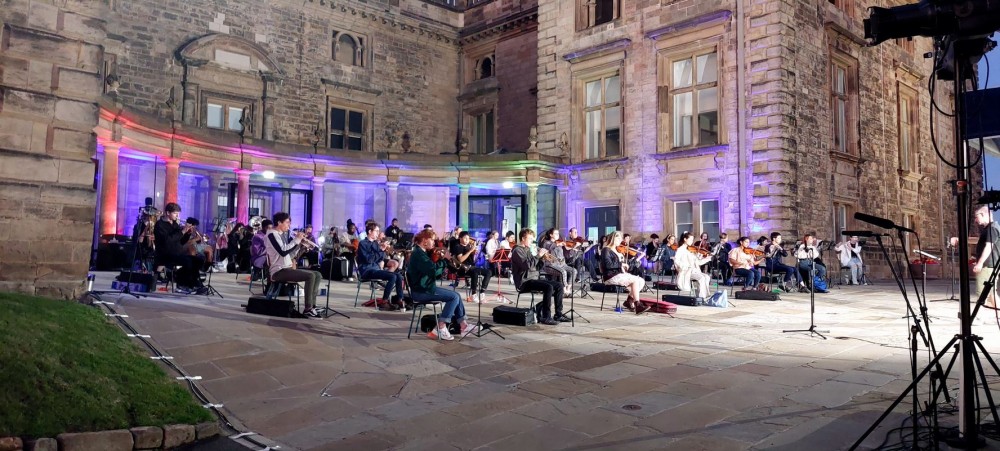 While RHYO continued making music throughout the lockdowns, having weekly online rehearsals and even recording new pieces, the 14th July event was their first live performance in 17 months. There was no audience on site but the concert was streamed live with the support of the wonderful Lakeside Arts, University of Nottingham on the Nottingham Music Hub YouTube channel.
According to University of Nottingham's James Parkinson, "Really proud of the young people and of the Music hub and our tech. team, I think you did amazingly to stream an event that actual captured the emotion and feeling of a live event!"
The set performed by the amazing RHYO was diverse and engaging as always, and included The Mandalorian, the haunting 2nd movement of Florence Price's First Symphony, Hans Zimmer's uplifting score to Wonder Woman 1984 and jazz fusion from Snarky Puppy.
After the challenges of the pandemic, it was an absolutely magical concert by RHYO with the atmospheric glow of the castle lights in the background. If you missed the performance, don't worry, you can watch it on our YouTube channel (also linked below).
Nottingham Music Hub is grateful for support from the Nottingham Castle for use of this beautiful venue and Lakeside Arts, University of Nottingham tech. team.
"
Just wanted to drop a quick email to congratulate you and the team and RHYO on how last night's concert went. It really was an incredible demonstration of all the hard work everyone has put in over the last year and was quite moving to watch. I can't wait to be back [and] coming to concerts in person, and seeing all the incredible stuff you guys will get up to now restrictions are easing!
"
Emily, former RHYO member