Nottingham Music Hub is excited to announce a new tour of secondary schools, academies and colleges focussing on careers within music! The Music Careers tour will feature talks, performances & give young people an opportunity for questions and networking. And did we mention it is completely free of charge?!
The tour is designed to help students discover and discuss the many varied career paths within music, from elements of the music business to performing in orchestras, from music production to music education, and more. There are so many opportunities that never get discussed and the music hub wants to explore all of these with young people.

Music Careers Tour 2020
The launch of our Music Careers Tour was fantastic, with visits to six schools/academies in Nottingham City: Nottingham College (Clarendon campus), Denewood Learning Centre, Parkvale Academy, Bilborough College, Nottingham Free School and Nottingham Emmanuel.
The tour was hosted by and included a performance from Nottingham's super talented singer/songwriter Rob Green, and also featured local producer Trekkah Benjamin from YMCA Digital. Trekkah brought music tech, performance and teaching skills to the room, and also recorded and produced students live during the session!
Compere Rob Green performed one of his singles and also talked students through its journey from composition through recording to release, and the various roles and career paths that were involved along the way.
The tour is particularly suited for students considering their options as well as those already working on their GCSE, A-Level or BTEC Music or young people interested in working in the music industry.
We're looking forward to organising the next tour! Stay tuned for more details later this year.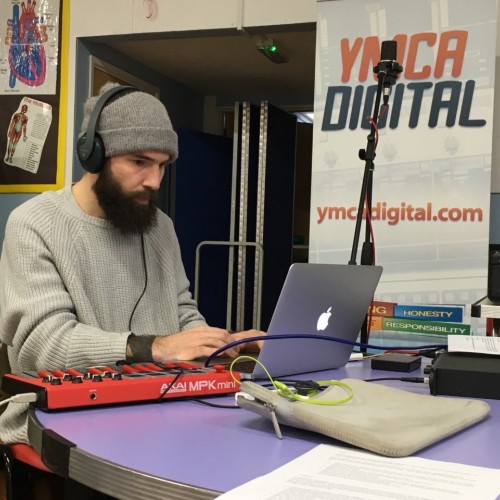 "
Thank so much for the Careers Tour! It was a brilliant session that was very engaging and informative for our students. The fast pace and diversity within the session was excellent and the feedback from our students has been universally very positive. Having elements on Music careers opportunities advice mixed with live performance, interactive live production plus Q and A was superb and gave our students a real insight into how diverse freelance roles tend to be in Industry.
"
Nottingham College, Andy Oakley