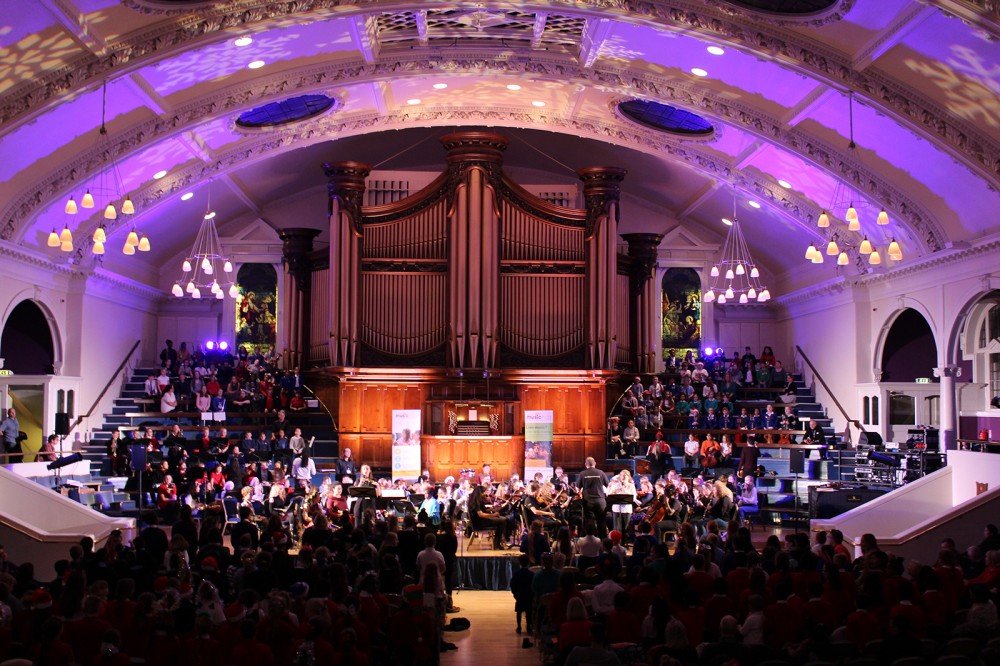 It is almost that time of the year! Our Christmas in the City 2018 concerts are around the corner and they are going to be fantastic. More young people are learning music in Nottingham City than ever before and our Christmas concerts are a beautiful celebration of their hard work and passion.
Christmas in the City @ Albert Hall, December 4, 2018
The first Christmas in the City concert will be held at the beautiful Albert Hall in Nottingham City on Tuesday, Dec 4, 2018. The event starts at 7 PM.
Tickets are now available! Please click here to purchase tickets

Tickets are just £6 / person (£4 for concessions), or £15 for a family ticket (2 adults and 2 children or 1 adult and 3 children). We have a brilliant line up of performers for you, including our Area Bands East & Sherwood.
Christmas in the City @ Royal Concert Hall, December 12, 2018
The second Christmas in the City concert will be held on Wednesday, Dec 12, 2018 at the Royal Concert Hall, Nottingham City Centre. Concert starts at 7 PM and doors open at 6:45!
Tickets are on sale already so buy yours here. See above for ticket prices.
We will have a packed programme, including performances by our incredible Robin Hood Youth Orchestra. Area Bands North, North-West, Central, West & South.
Christmas in the City 2017
A massive thank you to all our participants and our fabulous audience for helping us make our first Christmas in the City concert at Albert Hall a great success. We had a full house and with over 400 young people performing, it was an evening to remember. We had a fantastic time watching Nottingham's young people make music and spread some holiday joy, and we hope you did too!

We also want to express our gratitude to our charity partner Framework, and of course Roofus, for being there at our Albert Hall event! All donations received that night went to Framework to help them in their fight against homelessness and to support vulnerable people and enable them to live independently. Thank you to everyone who supported Framework at our Christmas in the City concert!
Our second Christmas in the City concert was absolutely amazing! With over 800 young people from 28 schools across Nottingham city performing, it was incredible to see all the talent this city has to offer.

Our primary schools performed together in a massed choir of 300+ children, and the Robin Hood Youth Orchestra was fantastic, playing a variety of music from Latin Gold to Mr. Blue Sky, accompanied by a slideshow of photographs from around Nottingham City. Area Bands, secondary school choirs, Sing City winners and a Band Factory act completed the line up. We also had guest performances by two vikings and Santa, as well as some interactive singing with the audience.
Thank you to all the performers and everyone who attended our CITC 2017 event at the Royal Concert Hall. You were amazing and we can't wait to do it all again next year!


"
I thought it [Christmas in the City concert] was fantastic – the best one yet. It's amazing to see the enormity of the talent that Nottingham has to offer and that is largely down to the support from the extraordinary Nottingham Music Hub ... An absolutely superb evening. We were very proud to be part of it!
"
Greenfields Community School Headteacher Terry Smith
"
I was blown away by the standard of the musicianship [at the Christmas in the City concert], the joy that the children took in their own and others' performances and the hugely impressive organisation of the whole event. My children are so fortunate to live in a city that values musical education so highly and provides such wonderful opportunities to every child to learn an instrument and experience the unique excitement that performing music as part of a group brings.
"
Participant's parent/audience member