Hello! Read below for updates on what we've been up to as well as what we have planned! If you have any stories of music making or events you want to share, please email aisha.iqbal@nottinghammusichub.org.uk. We'd love to hear from you.
Nottingham's young singers wow audience and judges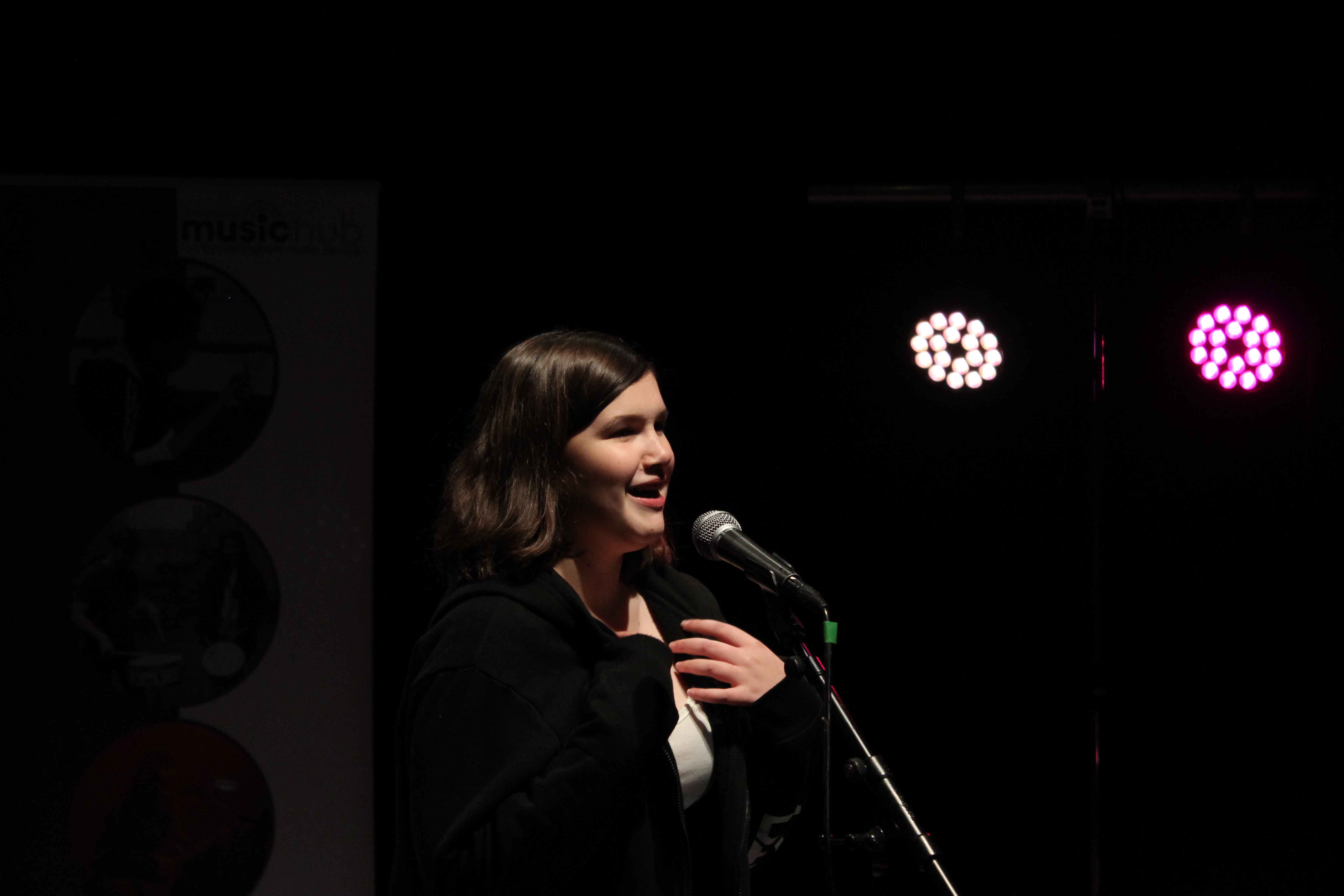 From new popular indie music to old Jazz classics and songs from musicals, Sing City 2019 was an incredible celebration of Nottingham City's young singers.
A competition for singers aged 11-19 who attend Nottingham City secondary schools and colleges, Sing City is organised every year by Nottingham Music Hub. The competition is free to enter and all secondary schools, academies and colleges are sent information on how their pupils can participate.Sing City offers young people an encouraging space to showcase their talents, meet peers from around the city and receive professional feedback.
This year, Sing City had a record 28 entrants, representing 12 secondary schools and colleges across Nottingham City. The first round of Heats was on November 12, 2019 at the College Street Centre. The quality of singing was exceptional, and the judges had a hard time selecting the finalists.
Hannah Barrs, a first-time judge and NMS staff, was anxious to make the right decisions, and the extraordinarily high standard of performance from the competitors didn't make it an easy task. "I found myself getting lost in the performances, carried away by the passion and emotion of the delivery, and at times almost moved to tears by the magic of what I was hearing. In the end, we selected 10 worthy finalists, but every singer who performed in the heats should feel a real sense of pride and accomplishment.It seems Nottingham really does have talent!"
Ten young people qualified for the Final, which will be held on November 21, 2019 at Nottingham College (Clarendon). Friends, family and community members are invited to come and support Nottingham's amazing musicians! There are no tickets but donations are welcome.
All finalists will also take part in a professional workshop with Nottingham's star singer and songwriter, Rob Green! Sing City winners will get to perform at the Nottingham Music Hub Christmas in the City concerts at Albert Hall, Nottingham and the Royal Concert Hall in December 2019.
Last year's winner Kensey Willow said, "Participating in Sing City was an exhilarating experience and wonderful opportunity. Through Sing City, I was able and delighted to perform at the Royal Concert Hall, with such a large audience. Thank you Sing City for all the opportunities you offer the youth of Nottingham!"
For more information, call us at 0115 947 6202 or visit our website: www.nottinghammusichub.org.uk
Nov 8th, 2019
Aisha Iqbal, NMS Staff
Making music for all children a reality
A quietly confident young man, Redeem is an Year 6 pupil at Westglade Primary School who started learning to play the clarinet two years ago with his class. Although he enjoys playing the instrument, due to limited mobility in his left hand, he has had a more challenging time than his peers.
This year though, things are going to be different.
This year, there is a one-handed clarinet, especially designed for people with physical disabilities, that he will be learning to play. The clarinet is one of only two in the world currently and it is incredible that a Nottingham pupil has access to it! It is more suited to Redeem's needs and enables him to play the full range of notes that his peers can. Emma, a Nottingham Music Hub woodwind teacher, has spent time figuring out how to play the one-handed clarinet, which comes with a stand to improve accessibility, and is excited about the opportunities this offers Redeem. As his teacher, she is impressed with Redeem's motivation to learn and spends additional one-on-one time with him each week to accelerate his learning.
Redeem's instrument was provided as part of a city-wide pilot project, a collaboration between Creative United, the OHMI Trust and Nottingham Music Hub, to make Whole Class Ensemble Teaching (WCET) more inclusive.
The pilot started in June with an online questionnaire that was sent to all 76 Nottingham City Primary Schools. Redeem is one of 78 primary pupils across 25 schools who were identified as benefitting from additional support with WCET. The project has enabled the needs of all those children to be addressed with specific, individualised interventions to enable them to play alongside their classmates.
The interventions range from large print resources and accessible teaching techniques to provision of specialist adapted instruments and carefully selected music technology solutions, made possible thanks to generous donations from Music for All, OHMI and Clement Pianos, a Nottingham-based retailer that is also a member of the Take It Away scheme.
Ian Burton, Chief Executive of the Nottingham Music Hub, says "Inclusion is one of our core values and we work very hard to ensure that all children in Nottingham City can experience the joys of making music with others. This initiative helps further our mission and we are so pleased to be working with such fantastic organisations to make music make a difference."
Like all new projects, there is an adjustment period, especially with the more specialist adapted instruments, however the programme holds a lot of promise and potential for children in Nottingham City to fully experience the joys and benefits of music making with others.
"I want to continue playing my clarinet," Redeem said when asked if he could play any instrument which one would he choose.He wants to be a police officer when he grows up, possibly playing in a police band so that he can continue with his music too!
Sep 10th, 2019
NMS Press Release
National Youth Orchestra workshops for Nottingham City pupils
Nottingham City pupils have a wonderful opportunity to work with the National Youth Orchestra (NYO) starting Monday, Sep 16.

As part of an ongoing collaboration with the Nottingham Music Hub, NYO will be touring to the Nottingham Emmanuel School and sharing a performance of Prokofiev's Romeo and Juliet with conductor, Karin Henrickson. NYO is a national platform for Britain's most talented teenage musicians and their performances are incredibly inspiring. The day at Emmanuel will be an incredible opportunity for teenage musicians and students from the school and neighbouring areas to see how a professional youth orchestra sounds and learn from their peers. The experience promises to be a valuable exchange for both the NYO and the attending pupils.
The entire day will be full of workshops, sessions and performances. Later in the afternoon, the NYO will hold a workshop and performance for our Area Band participants as well, extending the benefits and joys of music making to our primary pupils.
Area Bands, afterschool music programmes that take place around the city during term-time, are fantastic opportunities for children (ages 10-12) to carry on learning their instruments after their first year of whole class learning.
This year, Area Bands start from the week beginning Monday, Sep 16, 2019. The first session on Monday will be extra special because of the workshop and performance by NYO. NYO and Area Band participants will collaborate to play 'Mambo Swing', a piece many of the children will have learnt at Music Camp just the week before. After which the NYO will perform a selection from Romeo and Juliet.
The session starts at 3:45 PM and ends at 5:00 PM.The event is free and open to all Nottingham City primary school pupils!
For more information, please call Nottingham Music Service at 01159476202.
July 29th, 2019
NMS Press Release
Nottingham City Schools raise funds for local music hub
From school concerts to 'Dress Up Day', Nottingham City Schools have been fundraising for their local music hub. City pupils from schools across Nottingham have raised more than £2,000 to help fund life-changing music projects for young people, helping Nottingham Music Service inch closer to their match funding target.
Five Nottingham City Schools pitched in to raise donations for music making in the city. Mellers Primary School held a bake sale and concert, Middleton Primary held a carnival, William Booth Primary and Robin Hood Primary collected donations at their annual school concerts while Forest Fields Primary raised more than £300 with their 'Dress Up as Your Favourite Musician Day'!
We also had fantastic fundraising activities by the Robin Hood Youth Orchestra (RHYO). The young people organised creative fundraisers through June and July, from dodgeball at school to busking to a car wash and an incredibly inspiring concert by 'StrOrkestra!' (the strings section of RHYO).
NMS is incredibly proud of and grateful for the community support for their fundraising goals.
Nottingham Music Service (NMS) is a registered charity and lead partner for the Nottingham Music Education Hub. As a recipient of the Arts Council England Catalyst grant, all donations made to NMS between July 2016 to July 2019 will be doubled. This means that all funds raised during this time will have twice the impact.
With just a few days to go before the match funding ends, we are just £5,000 short of our massive £105,000 fundraising goal. NMS is so thankful to all the trusts and foundations, individuals, community organisations and local businesses that have donated and supported the charity mission over the last three years.
For more details on our supporters, please click here. If you would like to donate and join our wonderful community of supporters, please click here.
July 18th, 2019
NMS Press Release
Nottingham's Got Talent!
Four Nottingham City Schools had the fantastic opportunity to work with a professional composer and the Villiers Quartet, an internationally acclaimed string quartet that has performed live on BBC Radio 3 and at festivals including the Brit Jazz Fest.
The four schools were shortlisted for the 'Nottingham Creative Musical Primary 2019' award as part of the city's Creative Music Challenge held in collaboration with the Young Creative Awards.
The Creative Music Challenge (CMC) is an opportunity for primary schools in Nottingham City to show off their creativity and musical skills.Linked to the Nottingham Music Hub's 'Great Orchestra Experiment', a uniquely interactive concert where city pupils perform with the Robin Hood Youth Orchestra and Friends, the CMC invites schools to create their own music inspired by one of the pieces featured in the concert.
"We aim to get pupils composing their own music in a supportive and inspiring way. The CMC is closely linked to the National Curriculum and is integrated into the Music Hub's Progression Framework, so pupils gain a broad musical education through learning an instrument with their whole class. The involvement of Elizabeth Kelly and the Villiers Quartet has raised awareness and aspirations amongst our young people about where music can take them," Nottingham Music Hub Team Leader Helen Murray explains.
All schools that attend the Great Orchestra Experiment receive a teaching resource pack that can start them off on a great creative journey. Other schools can also get in touch with the music hub to receive the resource pack.
This year, we had 23 entries from 14 primary schools across the city.After much deliberation, four schools were shortlisted: Dovecote Primary, Robin Hood Primary, Seely Primary and Huntingdon Academy.
All four received a performance and workshop by the Villiers Quartet and Dr Elizabeth Kelly, Assistant Professor in Music Composition at the University of Nottingham, to develop their composition and perform a new version of their work alongside the quartet.
The four compositions were then evaluated in another round and the first prize, and title of 'Nottingham's Creative Musical Primary 2019', was given to Dovecote Primary, Class 4BH.
The shortlisted schools were thrilled with their workshops and performances.The workshops provided a unique and exciting opportunity for children to meet and learn from professional musicians.
"I was very impressed by the students' high level of creativity and engagement at all four selected schools. Students listened intently to the Villiers Quartet's performances of a range of classical and contemporary music and asked insightful questions. It was a joy to work with them to hone their compositions and enhance their performances, and we look forward to bringing the project forward next year and beyond," said Dr Elizabeth Kelly.
Four other classes received a 'Highly Commended' certificate.All schools will receive a certificate of participation and feedback for their entries.
The Villiers Quartet are the Quartet-in-Residence at the University of Oxford and Nottingham High School. They have been described as one of the most charismatic and adventurous quartets of the British chamber music scene (The Strad).The quartet have been participating in projects across Nottingham, engaging with city pupils and introducing new audiences to classical music.
Elizabeth Kelly is an American/British composer based in Nottingham, UK.Her compositions have been performed throughout the United States and Europe at venues including Carnegie Hall in New York, the Huddersfield Contemporary Music Festival in the UK and the Gaudeamus Festival in the Netherlands.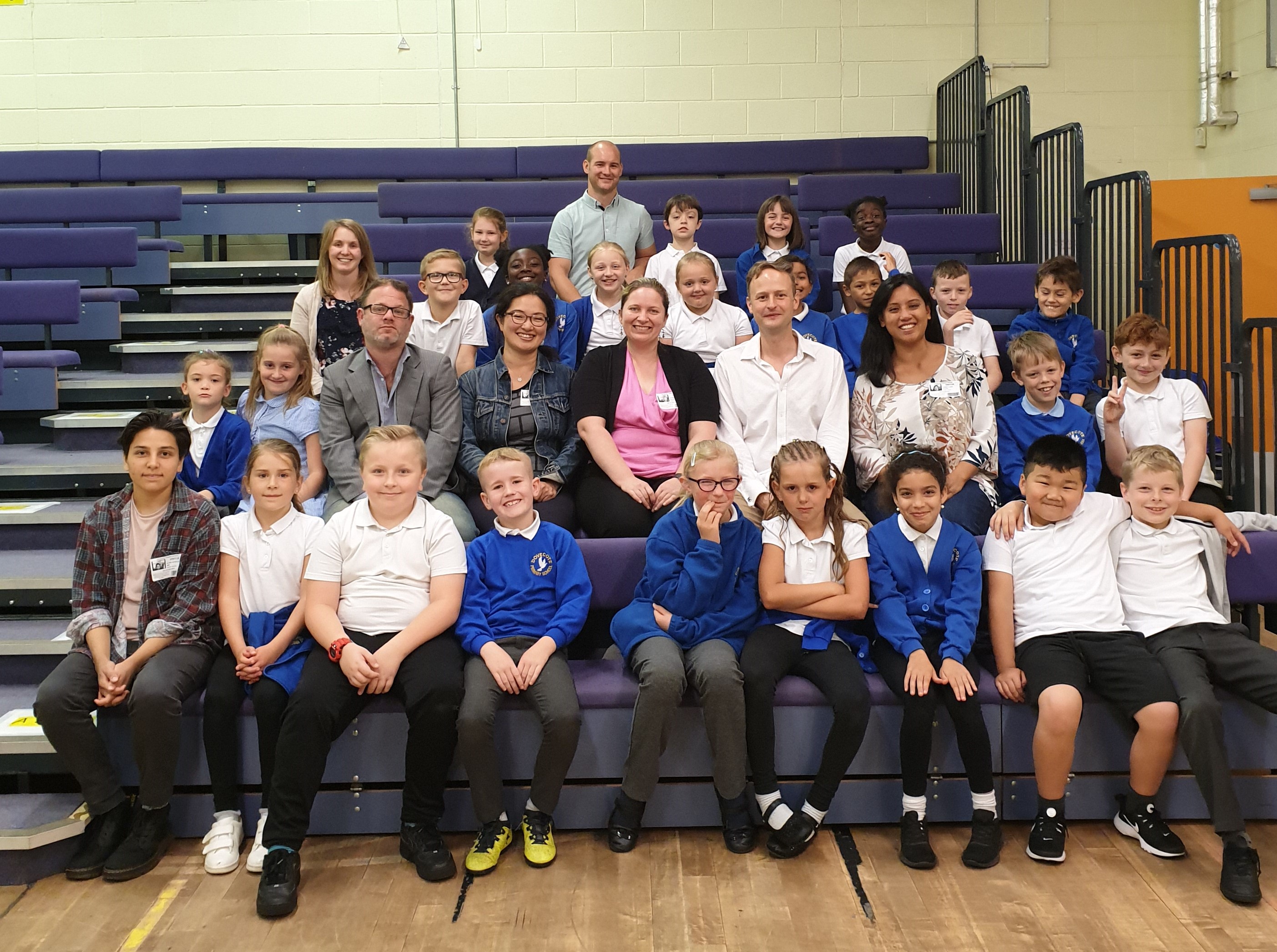 May 17th, 2019
NMS Press Release
Nottingham Music Service Hosts National SEND Pilot Programme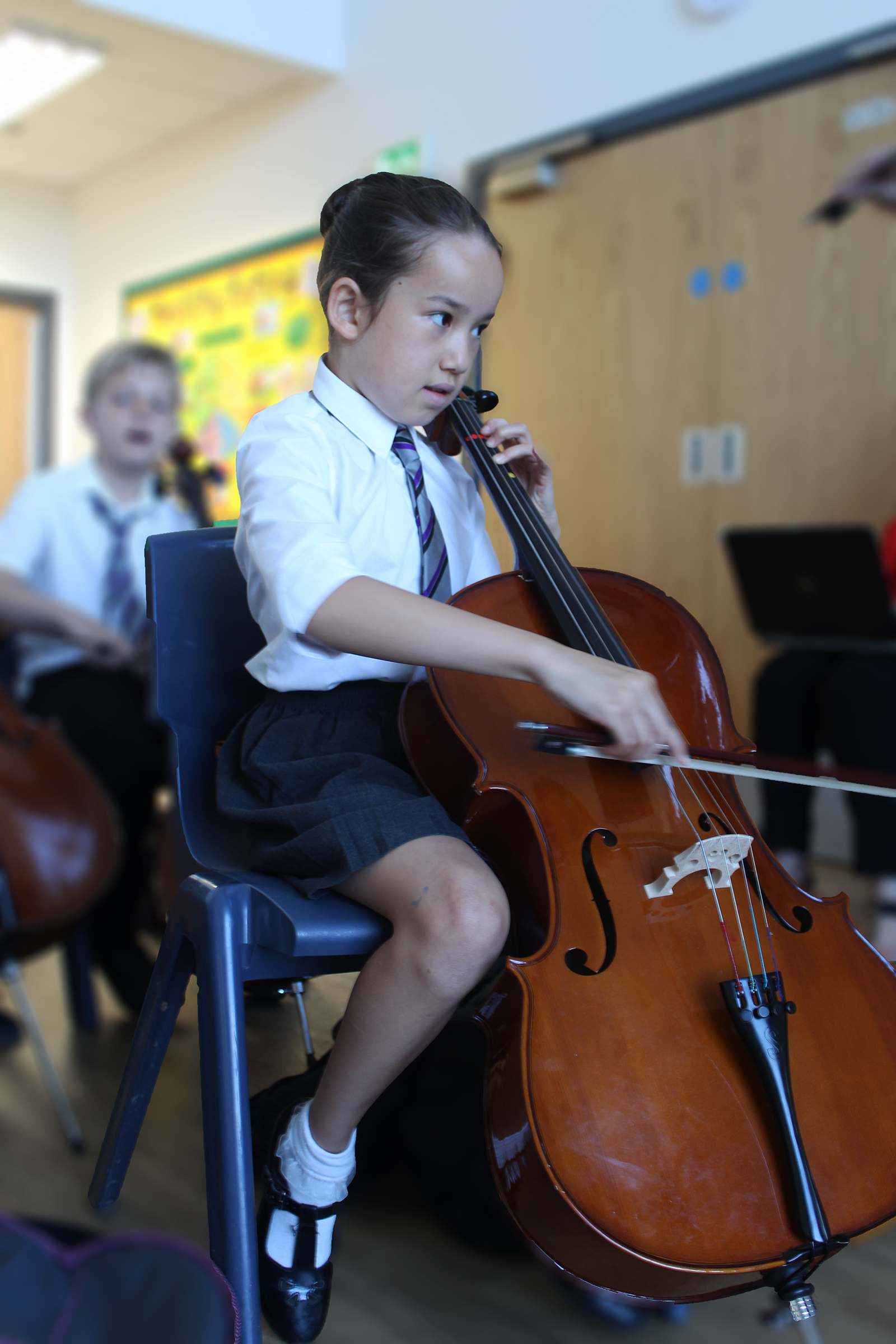 Nottingham Music Hub are very pleased to be announcing that, starting next month, we will be piloting a new initiative in partnership with Creative United and The OHMI Trust. The aim of the pilot is to ensure that Whole Class Music Tuition/In Harmony is as inclusive as possible and that all pupils have the opportunity to play an instrument. With this in mind, over the next couple of months we shall be identifying pupils that may need an adapted instrument when they start Whole Class Ensemble learning in year 4.
We are excited to be part of this pilot programme and are proud that Nottingham City Schools have been chosen for its initial run. We hope that this will lead to a national increase in the availability of adapted instruments and equipment. It is anticipated that this will substantially increase the number of children being able to participate fully in learning and playing music from an early age.
Please see this national press release for more details.
March 6, 2019
Guest Writer
5 Ways to Engage with Nottingham Music Hub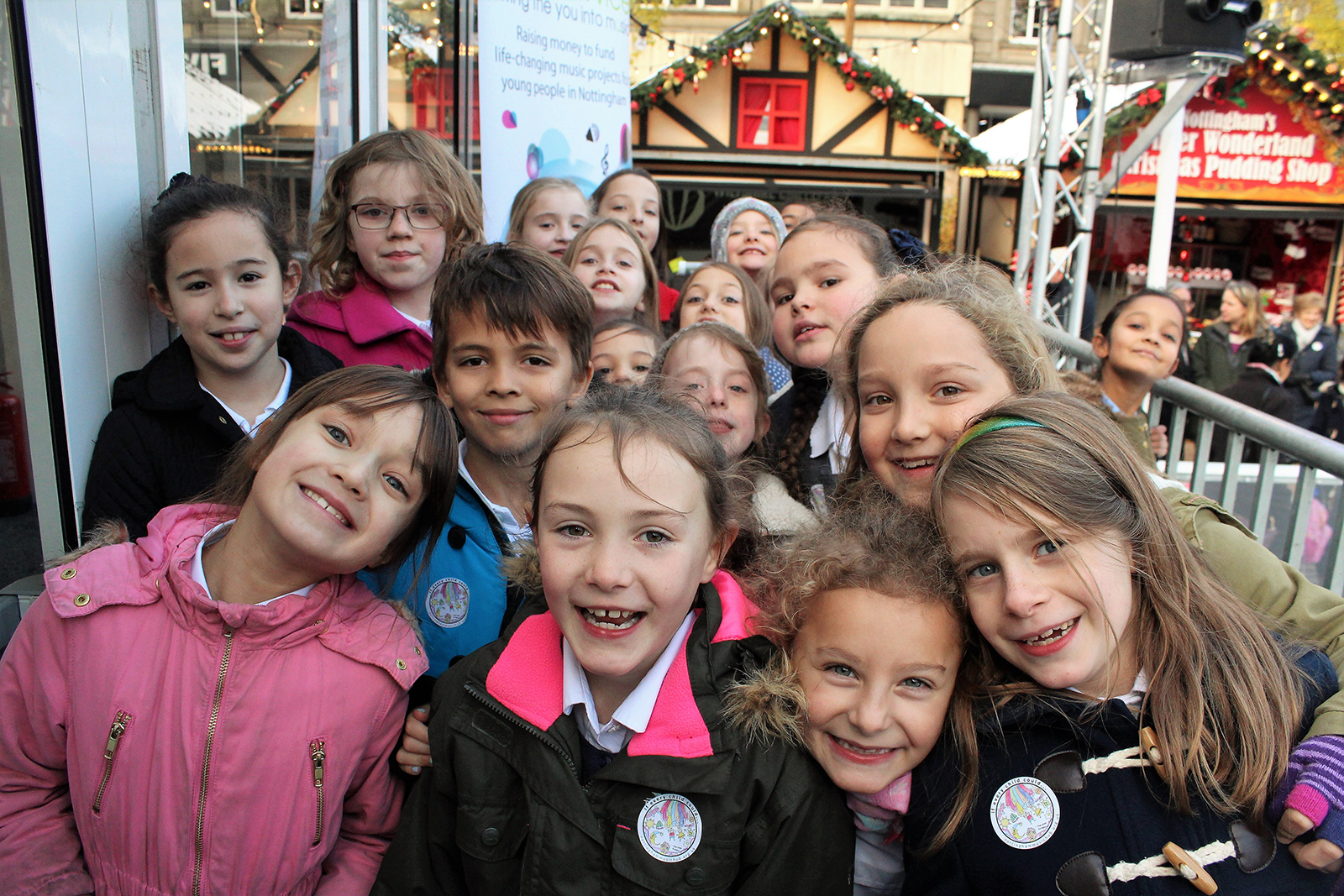 Interested in becoming a part of our music-loving community? There are plenty of ways to get more involved with Nottingham Music Hub, and we welcome the additional support! Here are five different ways to get more engaged with our work and community.
1. Join us to make music
Whether your child is a beginner or more advanced, a pop lover or a rockstar in the making, we have the ensemble for them! We host bands, orchestras and choirs of various ages, abilities and music genres. We're committed to helping children develop their musical skills and appreciation for the art while having fun. Consider signing your child up for one our ensembles so they can make music and friends!
2. Help us fundraise
We rely on the community for financial support and fundraisers are a fun way to drum some up! Help us boost interest by volunteering at or organising a fundraising event. You can plan charity-inspired music events to encourage continued support of music making. Talent shows, battles of the bands, and concerts are all great ways to showcase local artists and fundraise for Nottingham Music Hub.
3. Attend MAB Week
Our March Area Band Week is one of our favourite events because it celebrates the musical accomplishments of the children in our organisation. Throughout the week, there will be four performances throughout the city that feature all seven bands and our other ensembles. Performances run from 11-14 March and are free of charge! Simply find which day works best for you and come to enjoy the music and company.
4. Become a supporter
If you can't attend a fundraiser, we encourage you to consider donating personally to help fund our programmes. Whether donating directly through our site, in person, or in honour of someone else, all collections go directly toward allowing children to attend camps, paying staff members, and providing musical instruments to our groups. Big or small, we appreciate all you can give!
5. Encourage corporate giving
Alternatively, if you're a business owner, or work for an organisation that wants to give back, you could become a corporate sponsor. Not only will your generosity provide financial support to impactful children's programmes, but it can also give your company a reputation boost within the community. We're always grateful for corporate support and are excited to work together to make a difference!
In whichever way you're able to get engaged, we hope to see you out at one of our events joining in the celebration of community and music. Thanks for your support!

Jan 28, 2019
NMS Press Release
27 Nottingham City Schools receive award for commitment to music
Nottingham City Schools were lauded for their commitment and collaboration with Nottingham's music hub to provide their pupils with life-changing music opportunities.
Nottingham Music Service (NMS), a registered charity that provides music programmes for young people in the city, introduced the 'Music Hub Champion' award to recognise schools that have gone the extra mile to promote inclusive music education and support their pupils to benefit from the many music making opportunities provided by NMS.These schools have extraordinary staff members that support, encourage and inspire their children to continue learning their instruments and participate in out-of-school groups and events.
The awards were announced at NMS's Christmas in the City event on Dec 12, 2018 at the Royal Concert Hall in front of an audience of 1,800+ people.Lord Mayor of Nottingham Councillor Liaqat Ali presented a certificate to representatives of the Champion schools.
NMS Business, Operations & Strategy Manager Michael Aspinall says: "We wanted to publicly acknowledge those school that are going the extra mile to provide music educational opportunities for their pupils. We are proud of our work with local city schools and feel that it is important to recognise those schools that are helping students to engage with all aspects of the service."
The Music Hub Champion Schools for 2018 – 19 are:
Bluecoat (Aspley) Academy, Bluecoat (Wollaton) Academy, Brocklewood Primary and Nursery School
Crabtree Farm Primary School. Dovecote Primary and Nursery School, Firbeck Academy,
Forest Fields Primary and Nursery School, Greenfields Community School, Haydn Primary School
Heathfield Primary and Nursery School, Hempshill Hall Primary School, Melbury Primary School
Mellers Primary School, Middleton Primary and Nursery School, Nottingham Academy Primary
Nottingham College, Nottingham Girls' Academy, Oak Field School and Specialist Sports College
Old Basford School, Portland Spencer Academy, Robin Hood Primary School
Rosslyn Park Primary and Nursery School, St Ann's Well Academy, The Nottingham Emmanuel School
The Trinity Catholic School A Voluntary Academy, Whitegate Primary and Nursery School, William Booth Primary and Nursery School
Jan 21, 2019
NMS Press Release
Three Cheers for Ronnie Scott's Charitable Foundation
Ronnie Scott's Charitable Foundation has given a grant of £5,000 to Nottingham Music Service for their Music Camp 2019, set to take place in the heart of the beautiful Peak District in September this year.
Ronnie Scott's Charitable Foundation is a non-profit organisation dedicated to the support of jazz and music education in the U.K and beyond. The organisation aims to help nurture the next generation of musicians by raising and distributing funds for music education projects across the country.
The grant will help fund Music Camp, which is organised by Nottingham Music Service (NMS) every year."We are very grateful to the Foundation for its grant.We rely on the support of such great organisations to run our music programmes and to make sure that every child in Nottingham benefits from the joys of making music with others," says NMS CEO Ian Burton.
Music Camp is a two-day residential for pupils (usually at the start of Year 5) who have completed one year of whole class instrumental learning in school. During the camp pupils have instrumental lessons, explore the countryside of the Peak District, take part in team challenges, learn to read music and perform as part of a 'monster' band.One of the teachers who attended Music Camp 2018 wrote in her feedback: "The children get so much out of Music Camp. I am always amazed by how much they can do by the end of the second day. Thank you!"
Dec 1, 2018
Nottingham College Press Release
Rising Nottingham star takes to the stage
A seventeen-year-old Nottingham College student has earned her place to perform live at Nottingham's Royal Concert Hall this December, after wowing judges at the annual Nottingham Music Service Sing City competition.
Kensey Willow, of Dunkirk, is studying a Level 3 Music Performance course, and dreams of becoming a professional classical artist.
Being a winner at Sing City means she'll gain valuable industry experience, singing in front of up to 2500 people at the music charity's annual Christmas in the City concert on Wed 12 December.
Nottingham Music Service is a registered charity committed to providing life-changing music programmes for young people. Sing City is their annual competition for singers aged 11-19 who attend Nottingham City secondary schools, academies and colleges.
Judges for this year's competition included Notts-based singer Sarah Knight and award-winning MOBO artist Lincoln Jean-Marie.
Kensey will join two fellow winners in becoming part of the festive show, and she's really looking forward to the experience. She credits College staff and her mum for giving her the encouragement she needed to apply.
Kensey said: "My tutor let me know about Sing City, and my mum was like 'You should do it!'."
She chose to sing Windmills of Your Mind by Dusty Springfield in the first round, and in the final she also performed You're My World by Cilla Black.
Kensey described what it was like to wait for the final results. She said: "You just want it over and done with! When they called my name I was a bit shocked, and I was really excited. It's not every day that you get to sing at the Royal Concert Hall.
"My course has definitely helped me prepare for a career and performing on different stages. For example, we got to do a bunch of school gigs which made me more confident in my performance. I actually feel really confident about the performance in December and I hope that it goes well."
Andy Scoffin, Music Performance Lecturer at Nottingham College, said: "Kensey moved to the UK a couple of years ago from the USA, having never studied in the UK system before.
"After a Level 2 course with us she's moved up to Level 3 to prepare for higher education and a career. She's worked really hard and we're so proud of what she's achieved in her time with us so far."
Kensey plans to go into opera as a career, and is auditioning for world-renowned music conservatoires in London this year, including the Royal Academy of Music, the Guildhall and the Royal College of Music.
Oct 1, 2018
by Aisha Iqbal (NMS Staff Member)
Sky Full of Stars
"Can I take two yogurts?" the girl was eyeing the stack of yogurts, juices and butter sticks in front of us as we stood in line for breakfast at the YHA Ilam Hall cafeteria.
"I guess so," I told her, "but just think, if a lot of children pick up two yogurts instead of one, would there be enough for everyone?"
The girl thought about it for a few minutes then slowly picked up two yogurts. "Yeah, I think so."
From the excitement of picking out your own breakfast to sleeping in a bunk bed, to running down grassy slopes and figuring out new music notes – Music Camp 2018 was brilliant. We had over 200 children participate in the 2-day 1-night residential at Peak District in groups of three. Which meant that most of the Nottingham Music Service staff was out in the beautiful Ilam for an entire week – a very exciting but very tiring week!
I love Music Camp because it is a great opportunity to catch up on what is going in the world of 10-year olds and watch how just in the space of two days, they grow in confidence. There were two girls who were the only two pupils from their school, which can be daunting when other primaries bring an average of 5 children to camp, but they settled in slowly and by the second day, had made friends with pupils from the other schools, sharing jokes over scrambled eggs and sausages. The group activities, including an orienteering course that involves children working out musical clues and tasks that are set out across the lovely fields and grounds of Ilam, really encourage the children to work in groups and improve team work.
I always ask children their favourite part of camp and while many of them seem to love the hostel food, another favourite activity is the night walk. One of the most unique parts about the whole camp, the night walk is the last activity of Day 1. We set out in groups (making sure that the groups don't go out at the time to avoid any noise or excess commotion!) and the entire landscape is different in the dark. Save for a few torches, there is no light and while the children are a little apprehensive at first, they are amazed by the sounds of nature around us. We walk along the river and then stop at a clearing where the walk leader asks everyone to close their eyes for 15 seconds – when we open our eyes again there is always a chorus of amazement at how much we can suddenly see. The silhouettes of trees, the river, and the best part – a sky full of stars! And then there are the beautifully lonely notes of a phantom trumpet … but that's a story for another day!
Sep 26, 2018
by Chris Hull (Instrumental Teacher)

Never Too Late!
I'm a music teacher in Nottingham, and had been teaching the guitar for 10 years in schools across the city when four years ago, my supervisor at work requested that I learn to play and then teach the trumpet!
I was a little apprehensive but went in to it whole heartedly. This was actually the second time I was going to try and learn to play the trumpet! I had started learning the trumpet in secondary school, but only lasted about 6 months before I started missing band rehearsals and gave up.
Fortunately, this second attempt went much better. Already being a musician, I now had many of the required skills. I just needed to develop the technique and learn the finger movements. Now, four years later I have just received a distinction in my ABRSM Jazz grade 3! Playing the trumpet has definitely become a passion, so much so that I now play the trumpet when I perform with my band. I would like to thank my employer for encouraging me to learn to play. The moral of the story is: it's never too late to learn!
Join Now for a Brilliant New Year of Music School!
Budding young musicians from across the city are invited to enrol in Nottingham Music Service ensembles as the charity enters a new era at a new venue in the heart of the city.
Nottingham Music Service's (NMS) popular Saturday Music School has relocated from Nottingham Academy (Greenwood site) to Nottingham College (Clarendon campus) as part of their mission to find a more centrally accessible venue for their pupils.
The Music School includes Robin Hood Youth Orchestra (RHYO), RHYO Intermediate, which is a stepping stone to the full Robin Hood Youth Orchestra, and Band Factory, which provides guidance and rehearsal space for young instrumentalists interested in rock, pop and more.
The charity is also celebrating 10 years of its hugely popular two-day residential Music Camp this year, with its latest groups set to take the total number of participants (to date) to the 2,500 mark.
During the camp, pupils have instrumental lessons, explore the countryside of the Peak District, take part in team challenges, learn to read music and perform as part of a 'monster' band. It is all part of the charity's mission to 'make music make a difference' for every child in Nottingham.
NMS Business and Operations Manager Michael Aspinall commented:
'NMS believes that all children and young people in Nottingham should have the inspiring and rewarding experience of making music with others. After five fantastic years at Nottingham Academy, we are moving to Nottingham College. While we continue to have a great relationship with Nottingham Academy and are indebted to them for their support during the last years, our new venue is more central and accessible for city pupils.
'There's also more suited rehearsal studios at the new site, especially for Band Factory, which requires separate rooms for its various solo artists and bands. We're thrilled to start Music School at our new venue and all our ensembles are looking for new members: We look forward to welcoming pupils old and new to our Saturday Music School.'
Faculty Area Manager for Music and Performing Arts Michelle Lloyd and Music, Media and Performing Arts Coordinator Andy Oakley commented:
"We are excited to be in partnership with Nottingham Music Service and hope that we can enhance their Saturday provision with our excellent facilities at the Clarendon campus.As we strengthen our partnership we are looking forward to developing more opportunities within music and music education that are accessible for young people across Nottingham, and push Nottingham as a vibrant place for new music.'
NMS Business and Operations Manager Michael Aspinall added:
'As a registered charity, we rely on the support of the public to continue providing life-enhancing programmes for young people in the city and as a recipient of Catalyst: Evolve, a grant from Arts Council England, any sum donated will automatically be doubled and have twice the impact. I'd urge anyone who is as passionate about music as we are to get involved in supporting us and in encouraging the next generation of untapped musical talent in the city.'
To get involved in supporting the Music Camp and NMS, visit https://mydonate.bt.com/events/musiccamp
Enrolment for Saturday Music School starts on Sep 8, 2018. Young people can attend one of two sessions: the first session is from 10 am to 11 am, and the second from 11 am to 12 pm.Online enrolment forms will also be available on the charity website along with onsite enrolment at Nottingham College on the day.
Nottingham city saves the day for the Robin Hood Youth Orchestra
Three days before our Robin Hood Youth Orchestra's residential to Liverpool, the coach company called to tell us the coach they had booked had broken down and they were unable to get a replacement – not really the best news just before a trip that your entire staff has been planning for six months!
As a charity devoted to changing young people's lives through music, Nottingham Music Service is committed to its work and our participants' happiness is paramount.
Despite all hands on deck and ears on phones, we couldn't arrange alternative transport for our 63-strong Robin Hood Youth Orchestra (RHYO) and so the much awaited and meticulously planned three-day tour to Liverpool and Manchester had to be canceled last minute.
We didn't have much time for tears though since now the task was to make sure our young people had something to do over the Friday and Saturday, July 13 & 14. As we Googled things to do in Nottinghamshire, rung up contacts and friends' contacts, we managed to piece together a whirlwind itinerary for the weekend.
The best part about our two days of making music in and around Nottingham was how people and organisations across the city and region came together to help make things work. It was a heartwarming display of support and love for young people and music!
Rebecca Langton, from Nottingham City Council leader Jon Collin's office, called to see how they could help and subsequently arranged a Nottingham City Transport bus exclusively for our use so that we wouldn't have to rush in a panic to find seats on public transport for all 60+ members of the orchestra and staff! The bus took our wonderfully high-spirited RHYO to Southwell on the Friday where, after a rigorous walk in the fields, the orchestra performed in the beautiful Education Garden of the Southwell Minster.
We would also like to thank the Nottingham City Council (NCC) events team for letting us play at Trinity Square, the Nottingham Community Transport (CT4N) for arranging the electric buses for us on Saturday and wheeling us all the way to Newstead Abbey and back, Linda Abbott for inviting RHYO to play at the fantastic Bulwell Arts' Festival at the Bulwell Academy (on such short notice too!), the NCC Museums and Galleries team for arranging a lovely performance in the gardens of Newstead Abbey, Shona Powell and Catherine Hocking from University of Nottingham for facilitating our wonderful performance and flash mob at the Lakeside park and Ben from Lakeside for the delicious packed lunches!
We would also like to thank RHYO and their family and friends who were very understanding about the cancelled trip and who overcame their disappointment to have a great time over the weekend! All the people we met over our different performances across the region were absolutely delightful and very supportive.
We didn't make it to Liverpool, but Nottingham city and its people definitely lived up to their community spirit and made it a weekend we're not going to forget!